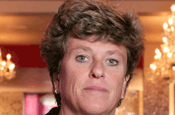 Rather than appointing a sole managing director, Ratcliffe, who was promoted in September, has put in place a management board divided into three units: commercial and finance; trading; and business solutions.

The commercial and finance unit will be headed by the former MediaCom commercial director David Jowett and the former deputy finance director Damien Glackin.

Although job titles are yet to be finalised, Jowett will effectively retain the same role and Glackin will be the finance director.

They will take equal responsibility for the day-to-day running of the agency and driving commercial opportunities and business growth.

The trading unit will be run by Steve Bignell, the former broadcast director at MediaCom, and Claudine Collins, the former group press director.

The business solutions division, which has been set up to drive brand and business understanding, will be headed by Sean Healey, the former strategic solutions director, and Jason Theodore, the former head of account management.

The division will be responsible for accountability and providing client-centric strategic ideas and insight.

MediaCom has also appointed the managing part-ner, Nigel Robinson, to the role of new-business and marketing director, replacing Karen Blackett, who became the chief operations director for Europe last month.

Ratcliffe said: "I am excited about the future for Media-Com. I believe we have amazing talent within the business and my role is to allow that business to grow."