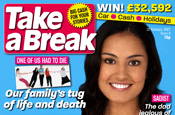 Bauer's portfolio, which primarily comprises women's weeklies and TV listings magazines, has a combined circulation of more than four million copies per issue.
Its flagship title is the UK's biggest-selling women's weekly, Take a Break, which has an ABC of 1,027,013. Its TV magazines include TV Choice and TV Quick and it also publishes a range of puzzle titles.
The publisher's core market - older-oriented traditional women's weeklies - is in decline in the face of younger launches such as IPC's Pick Me Up and ACP-Natmags' Real People.
As a result, Bauer is likely to want to grow its magazines' profiles, as well as promote its recent launch, In The Know.
Like Emap's First, the real-life/news hybrid has struggled to rise above a niche audience and currently sells 107,660 copies a week. Bauer recently gave it a revamp, including a new logo, and has run several cut-price promotions to encourage sampling.
Through its Motive division, Starcom handled the media for launches such as Real, later sold to Essential Publishing, Total TV Guide, short-lived men's weekly Cut and In The Know.