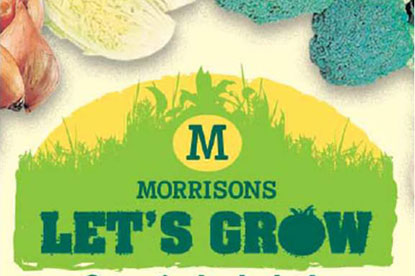 The campaign involved a community engagement programme, via a voucher scheme providing schools with gardening equipment and seeds, to encourage children to grow fresh produce.

This year's IPA Effectiveness Awards for the first time restricted entries to campaigns with a budget of up to £2.5 million.

Lord Chadlington, the chief executive of Huntsworth and chairman of judges for the Awards, said: "Particular praise must of course be reserved for the Morrisons campaign which not only ticked all of the effectiveness boxes for the judges, it was also interesting, compelling, engaging and had a green element."

The 2009 IPA Effectiveness Awards were sponsored by Thinkbox and supported by Warc; official publishers of the effectiveness case histories, DDS and Campaign.

Andy Nairn, the executive planning director at Miles Calcraft Briginshaw Duffy and convenor of judges, said: "All the entrants have shown admirable ingenuity in using their limited funds to great effect.

"Indeed their creative approach to problem-solving provides useful lessons for all advertisers and agencies, large and small."

In total, three gold awards, three silver awards, ten bronze awards, and seven special prizes were presented.


Special Prizes

• Grand Prix, sponsored by Thinkbox – Mediaedge:cia for Morrisons
• Effectiveness Company of the Year, sponsored by Thinkbox – Mediaedge:cia for Morrisons
• The Channon Prize for Best New Learning –DLKW for Halifax
• The Broadbent Prize for Best Dedication to Effectiveness, sponsored by Warc – British Heart Foundation
• Best Integration, sponsored by Campaign – Mediaedge:cia for Morrisons
• Best Media, sponsored by DDS – McCann Erickson Communications House (Manchester) for 'Don't be a cancer chancer' (Manchester Versus Cancer Alliance in partnership with Ashton Leigh & Wigan PCT)
• Best Small Budget – Red C for Swinton Taxi Division

Gold Awards

• Mediaedge:cia for Morrisons
• DLKW for Halifax
• WCRS for Cycling Safety, Transport for London

Silver Awards

• Grey London for Yoobot, British Heart Foundation
• JWT for Knorr
• Red C for Swinton Taxi Division

Bronze Awards

• Grey London for Watch your own heart attack, British Heart Foundation
• Grey London for Frijj
• Krow Communications for Nutella
• McCann Erickson Communications House (Manchester) for 'Don't be a cancer chancer' (Manchester Versus Cancer Alliance in partnership with Ashton Leigh & Wigan PCT)
• Publicis for Slendertone
• Serious Ideas for London Business School
• TBWA\Manchester for ghd
• TBWA\Manchester for Resolva 24H
• Total Media and Maximuscle for Maximuscle
• UKTV and Red Bee Media for Eden and Blighty



Winning case summaries (in alphabetical order of brand)

British Heart Foundation, by Grey London – 'Watch Your Own Heart Attack'

94,000 people die of heart attacks every year in the UK. In many cases, they die because they wait too long before calling 999. The British Heart Foundation's 'Watch Your Own Heart Attack' campaign aimed to reduce 'patient delay' by raising awareness of the full range of symptoms. The creative strategy was to give the nation a dry-run heart attack in the form of a two-minute film shown on TV. The film ran once; 6 million saw it and nearly all remembered it. It raised and sustained awareness of a wide range of symptoms among core and wider audiences, and encouraged discussion and online investigation. This contributed to a two-and-a-half minute reduction in patient-delay and it is estimated that 70 people survived because they called quicker, having seen the film.


British Heart Foundation, by Grey London – 'Yoobot'

Currently one in three UK children are obese or overweight and if this trend continues, it is predicted that 90 per cent of today's children will be by 2050. This paper explains how a radical change of approach from 'telling' to 'playing' helped The British Heart Foundation set in place a generation's lifelong eating patterns, and took steps towards tackling the obesity epidemic. The creative strategy involved 'Yoobot', an educational game which allowed children to experiment with the future health effects of diet. Children could either care for their 'Yoobot' or feed it into an early grave quite literally, learning about the effects of diet and exercise on their long-term health along the way. Over a million children created Yoobots and 78 per cent of the 11-13 year-olds who played claimed to have improved their diets.


Cycling Safety, by WCRS – 'Cyclists should be seen and not hurt'

In 2007, 21 cyclists in London died because they weren't seen. This paper shows how a small budget campaign of £600,000, reduced deaths on London roads by a third. The challenge was to find an idea that didn't discourage cyclists from riding, or place blame for the accidents. The strategy therefore was not just to tell drivers that cyclists weren't seen, but to actually prove it, by creating a test that made viewers experience how easy it could be to look, but not see. The communications approach was to create a film showing the limitations of the viewers' own brains. The test has been experienced by over 13 million people, saving an estimated £2.3m in human and administrative costs, and resulting in payback of £3.66 for every £1 spent.


'Don't be a Cancer Chancer', by McCann Erickson Communications House (Manchester) – 'Don't be a Cancer Chancer; How a colloquial message of hope empowered a population to save their own lives.'

Every year 500 people in Greater Manchester could be saved from cancer death if their symptoms were presented earlier. This paper shows how a small budget social marketing campaign saved lives in Greater Manchester with a positive message about cancer. The creative strategy was to create hope instead of fear and alter the way that this population reacted to the early signs of breast, lung and bowel cancer. With four impactful yet empathetic visuals in newspapers, bus tickets, pharmacy bags, on public toilet rolls and drink coasters the campaign was able to reach and engage with a specific, socially disadvantaged audience. It achieved prompted awareness of over 50 per cent, a 69 per cent increase in awareness of the symptoms of cancer, and 26 more cases of cancer were diagnosed in 2008.


Eden and Blighty, by UKTV & Red Bee Media – 'Reinvigorating the factual TV genre'

This paper shows how UKTV Documentary and UKTV People were transformed into two exciting new brands, Eden and Blighty, bringing in new viewers and advertising revenue. Faced with factual pay-TV subscribers not watching the factual pay-TV channels, UKTV Documentary and UKTV People needed rebranding to increase their brand awareness and viewers. Partnerships with non-media brands, such as Ted Baker and Lonely Planet, were used to extend the brands beyond the reach of traditional media and allow them to become alive in the outside world. These partnerships enabled everything from bookmarks and shop windows to become unique media spaces to build the brand. Rebrand success brought new viewers into the factual pay-TV category, grew channel performance, and generated a projected payback over the next four years of £9.1m.


Frijj, by Grey London – 'Four Ridges Must Be Destroyed'

This paper demonstrates how disaster movies increased sales of FRijj milkshake. In recent years, FRijj's non-promoted base sales have been in decline. The challenge was to reverse this by re-engaging the core consumer base of 16-34 year-old male milkshake drinkers. The creative strategy was for FRijj to behave like an entertainment brand, rather than an FMCG product. This was achieved through a multi-faceted campaign: the centrepiece was the 'Four Ridges Must Be Destroyed' online movie, which was based on cult classics such as 'The Blob' but instead featuring FRijj. This movie was supported by a London-based film festival, a consumer film competition and a limited edition FRijj flavour. The campaign generated a payback of £1.04 per every £1 spent.


ghd, by TBWA\Manchester – 'ghd – Creating a premium shopping experience online'

This is not a traditional communications story about the impact of advertising, but is instead about how a brand was able to take back some control using its website to protect brand assets in an online market place. In 2008, hair styling iron ghd was faced with a decline in retail sales and the booming online retail environment was putting pressure on both margins and the exclusivity of the brand. The solution was to increase ghd's online sales by improving the website so that traffic was converted efficiently. As a result, the website re-design generated a payback of £3.01 per every £1 spent.


Halifax, by Delaney Lund Knox Warren & Partners – 'Halifax Students Campaign 2008'

This paper shows how in a quest to improve efficiency in 2008, Halifax set themselves the challenge of recruiting as many new student current account customers as the previous year, with approximately half the marketing budget. Starting university is seen as one of the key life events that triggers the need to open a current account and as a result there is strong competition between banks to capture the nation's new students. The strategy involved shifting 80 per cent of media budget online, with the online campaign centred around the notion 'Be smarter with your money' and a film that exaggerated the mad things students do to get through university financially. Digital creative led all other communications from in-branch posters to direct mail. As a result, increased efficiency led to a payback of £2.36 per every £1 spent.


Knorr, by JWT – 'Why It's Still Good To Invest In The Stock Market'

Knorr faced a challenge when it launched its new Knorr Stock Pot: communications needed to convince a seemingly happy stock cube user to trade-up to the new product while minimising cannibalisation of Knorr's existing range. The strategic solution was to show the Knorr Stock Pot not as a premium cube, but as a convenient alternative to stock made from scratch. The creative treated the Knorr Stock Pot in a different way from how standard cubes had been communicated; first the campaign heroed the Stock Pot by treating it as food, rather than an ingredient and then it replaced 'mum' as the ultimate authority on homemade taste with Marco Pierre White, a Michelin starred chef. The campaign generated a ROMI of 1.28:1, and payback of the project's total costs is expected to be achieved three years earlier than expected.


London Business School, by Serious Ideas – 'Pre-Masters Campaign'

This paper shows how innovative social marketing techniques were used to successfully recruit students to a new business Masters programme at the London Business School. The challenge was to reach a demographic that the School had not catered for before, as well as maintain the prestige of the brand. The strategy was to spread the word and position the new programme through seeded online debate, which in turn grew awareness virtually through social networking and interest groups. Various media were used to back up the online debate, from blogging, online PR posts and targeted email marketing among others. As a result, Serious Ideas were 125% over their conversion target to deliver 100 students to the programme for September 2009 and produced a revenue stream of £2,190,000.


Maximuscle, by Total Media and Maximuscle – 'Normalising a category and growing a brand'

This paper shows how Maximuscle widened its audience in the sports nutrition category. In order to realise the growth potential of the brand, Maximuscle needed to reach out to a broader lifestyle gym goer and those active in sports. The challenge was to change non-user's negative perceptions of sports nutrition and position itself as a safe and credible brand that could help them achieve their physical and sporting goals. The strategy involved redefining the brand as 'the euphoria you feel when your body is in great shape' and reflecting this in communications, such as magazines, internet, DM as well search and sponsorships. As a result, Maximuscle has generated a payback of £2.85 per every £1 spent.


Morrisons – 'Let's Grow', by Mediaedge:cia – 'Getting your hands dirty with Morrisons'

This paper shows how a new marketing programme generated significant returns at a time when competitors were concentrating on price. Following the success of Morrisons' brand relaunch in 2007, they needed to continue to stay one step ahead of their competitors. The solution was the 'Let's Grow' campaign, involving a voucher redemption scheme, providing schools with gardening equipment and seeds, and encouraging both teachers and children to enjoy growing their own food. Communications included a partnership programme with schools and then a national campaign to consumers, featuring TV, print and DM among others. In its first year, 85 per cent of primary schools registered, 39 million vouchers have been redeemed and 'Let's Grow' has generated payback of £21.57 per every £1 spent.


Nutella, by Krow Communications – 'Wake up to Nutella'

Nutella could be seen as a popular part of the breakfast ritual in many countries, but in the UK the brand faced a problem as many Mums saw it as a chocolate spread and classed it as a treat rather than a breakfast food. The solution was to re-educate Mums to view Nutella as a hazelnut spread, so to position it as an acceptable breakfast choice. The strategy framed information about the positive benefits of hazelnuts in the context of family breakfast time, through TV, PR, sampling and promotions among others. As a result, the campaign has attracted one million new customers to the brand and generated an estimated payback of £1.85 per every £1 spent.


Resolva 24H, by TBWA\Manchester – 'Pop up weeds'

This paper demonstrates how a limited budget, focussed on effective TV advertising, successfully launched Resolva 24H. The weedkiller market, although mainstream, is a relatively small category in gradual decline. Faced with strong competition and being late entrants into a highly seasonal market, this brand challenged the conventional category approach by thinking disruptively and dramatising a new insight into the catergory which consumers readily engaged with. The creative brought the consumers' feelings of annoyance towards garden weeds to life through an animated TV campaign. As a result the campaign was responsible for 59 per cent of annual sales.


Slendertone, by Publicis – 'Keeping Your Dragon Happy: How Slendertone delivered its venture capitalist investors sustainable business growth'

This case study shows how Slendertone proved advertising's effectiveness to a unique type of investor; venture capitalists, and delivered them sustainable business growth. The brand was faced with the challenge of proving that they were continually optimising their marketing strategy and spend. First, a new media strategy was developed to allow for TV, using consumer insights it optimised messaging around times when people were most 'body aware'. Secondly, to combat perceptions that the product was just a gimmick, communications were overhauled to show a 'healthy and fit' audience the simple benefits of adding 'tone' to their lifestyle. As a result, the strategy increased revenue by 71 per cent while bringing the marketing spend ratio down from 40 to 23 per cent.


Swinton Taxi Division, by Red C – 'Swinton Mystery Tipper Campaign'

This paper shows how powerful iconic imagery was used to inject new life into the fragmented and competitive world of taxi insurance. After a period of rapid growth up to 2002, Swinton's taxi division had plateaued as a result of increasing competition in the market. The challenge was to increase the volume of policies sold by 10 per cent in 2008. The strategy was built around a central cartoon character inspired by Dick Tracey with a hint of Jessica Rabbit – the Swinton Mystery Tipper – who visited towns and cities in the UK giving cab drivers a £1,000 cheque. Combining sales promotion, DM and PR, the campaign created a sharp and sustainable rise in business for the brand by exploiting the effect of word-of-mouth on the cab ranks and in taxi offices across the country. The campaign generated a payback of £4.31 per every £1 spent.