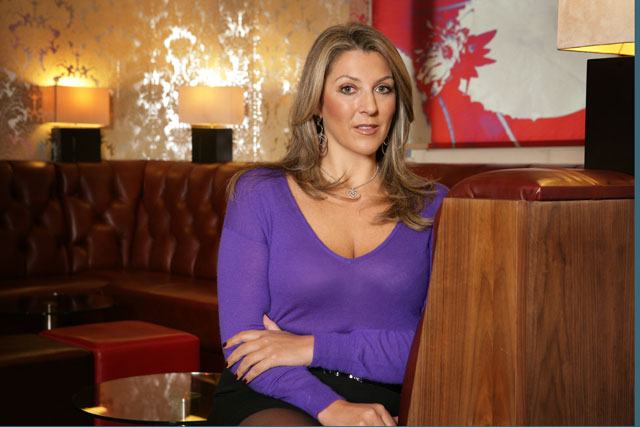 Whoever said that Claudine Collins only cared about lunching and socialising was talking bobbins. Yes, she has a business lunch every day and, yes, she is sociable. But in between that, the glamorous new managing director pours a lot of her soul into the beast that is MediaCom, which she describes as her "second family".
Three days and three hours into her role as the managing director of the largest media agency in the UK, she is clearly still excited about her promotion; she totters around in painfully high heels that could well have been an "I've got a new job as managing director" purchase.
Everyone knows Claudine Collins or CC or Claude. She is undoubtedly a trade treasure; the Jackie Collins of media buying, if you will. She is younger and kinder on the eye than Collins the author but, equally, she is that fabulous pillar of an industry that would be worse off without her.
Google her name and you'll find a shot of her at a high-octane media piss-up hugging Piers Morgan and Nancy Dell'Olio. Sure, she's no digital maestro who will take MediaCom to unfurled climbs, but in an industry founded on joie de vivre and the strength of relationships, she is one of the old-school best.
But while she is happy to be interviewed for Campaign, she is nervous. For good reason. Last year, she came under attack when Media Week published the diary of a typical week in the life of Claudine Collins. She went for a lunch every day (with Conde Nast, Rebekah Brooks - before the scandal - and Andrew Mullins) - hell, she even went to the Chelsea Flower Show as a guest of Telegraph Media Group's Murdoch MacLennan.
All this was too much to handle for some of the more spiteful readers. Within hours, there were snide comments blistering the site, ranging from accusations that she was "boastful" to vicious remarks about her weight. "I'd be incredibly arrogant if I said it didn't upset me," she says. "It did. In retrospect, it was naive. Even as I was writing it, I thought: 'Blimey, I have seen a lot of people in one week.'"
"The funny thing about that," Collins' colleague, MediaCom's EMEA chief executive, Nick Lawson, says, "is that I don't know anyone else who puts in as much time as she does with clients and media owners. It's hard work."
Mark Craze, the chief executive of Havas Media UK Group, agrees: "I'm in awe of the hours she puts in. When other people go home in the evening, she's out there going the extra mile for her agency. As a competitor, I see that as a threat."
Collins says that while she "wasn't naturally the most academic person" at school, she has always worked hard. It is obvious the woman is committed - she's always Tweeting that she has finished an 18-hour day at midnight and is up at five the next morning; and when she was a group head in the direct marketing department at CIA at just 23, it was not uncommon for her to sleep in the office as she had worked so late.
Collins points out that being out four nights a week for MediaCom arguably impacts on her personal life. "It's probably why I'm single," she says frankly.
Unsurprisingly, her route to managing director has not been a quiet conversation. At the end of last year, she was headhunted by Carat for a chief operating officer role, and it's understood Hearst Magazines was desperate to claw away the press doyenne for its own chief operating officer post following the National Magazine Company and Hachette merger. Simultaneously, the MediaCom chief operating officer, Steve Bignell, handed in his notice to go to ITV, which, coupled with the managing director gap left by David Jowett the year before, meant the time was right to strike.
But Collins maintains that while she was not content with her previous investment role (it didn't challenge her), a larger position had been coming her way ever since Karen Blackett became the chief executive a year ago: "One of my strengths is working with clients - clients know I'm a doer. My media owner relationships are right up there at the top level, so I told Karen I was passionate about bringing clients and media owners together more and doing more creative things."
Now she is the managing director, what will her remit entail and does MediaCom really need a fourth woman running it, along with the chairman, Jane Ratcliffe, and the chief strategy officer, Sue Unerman? Collins says: "At MediaCom, we are a meritocracy - we don't distinguish men from women, black from white. And we have 200 clients. Client service is key to us and client retention has got to be our number-one priority. There's a lot of work to do."
And finally, what inspired Collins to get into advertising? "I went to the careers library and opened the careers book at 'A'," she says. "I flicked past accountancy - boring - and hit advertising. I thought, well, I can't draw, so that's no good. Then, at the bottom of the page, it said: 'If you can't draw but you're good at maths and good with people, you can be a media buyer.' I thought: well, let's try that."
She adds: "I love the fact that advertising starts with an 'A'. Otherwise, I might have missed out." It's the kind of thing Katie Price would say, and it's difficult not to love Collins all the more for it.
THE LOWDOWN
Age: 43 (wishes she was 33)
Lives: Belsize Park, London
Always in the fridge: Wine
New Year's resolution: To be the best MD - to make a difference
Favourite magazine: I will get killed by every editor out there if I
choose one
Mantra: Seize the day