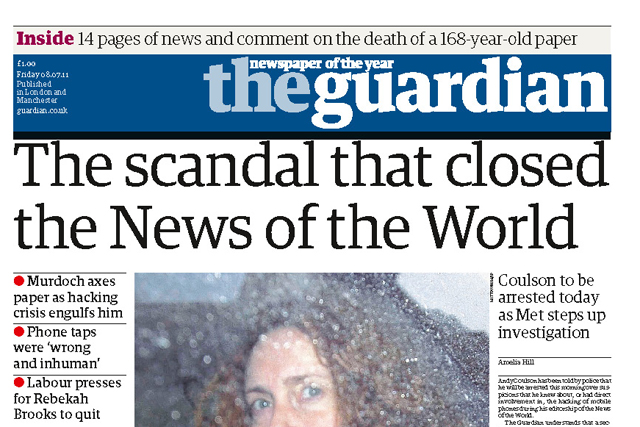 Judging this year's Campaign Medium of the Year was no easy task. Many of the shortlisted companies had different cases - be they commercial success, editorial rigour or a track record in leading innovation. Ultimately, the prize was awarded to The Guardian for having so effectively led the UK's news agenda in 2011, the ramifications of which are still being felt, while offering innovative creative solutions for its commercial partners.
This year saw The Guardian mark its 190th birthday and the newspaper celebrated with one of the most significant years in its long history. It is no exaggeration to say that The Guardian has transformed British media and has also made politicians, on all sides of the House, feel somewhat uncomfortable.
Probably the most significant achievement has been the way the title has so effectively pursued News International, and more specifically News of the World. As the former NI chief executive, Rebekah Brooks, is alleged to have said when the decision was finally made to shut the paper after advertisers pulled their support: "The Guardian was out to get us, and they got us."
But this was not just about point-scoring against a rival publisher. Whereas an investigation by the Metropolitan Police had failed to find any evidence of endemic wrongdoing at News of the World, The Guardian's persistence in pursuing the story resulted in the discovery that it was more widespread than previously thought. Among the most startling allegations was that its journalists or private investigators had hacked into the mobile phones of victims of the London 7/7 terrorists attacks, the families of British soldiers killed on duty in Iraq and, most memorably, the family of Milly Dowler.
The scale of the cover-up is still not clear, but it appears to go to the heart of many institutions including the police, the political elite and the family of Rupert Murdoch, who was hauled before a Parliamentary committee in what he described as "the most humble day" of his life. There can be little doubt that The Guardian's fearless and forensic investigation into phone-hacking led to the Leveson inquiry looking into the standards of journalism throughout the UK media and has, therefore, been a force for good.
Evidence of The Guardian's high standards of journalism was also apparent in its live coverage of the Arab Spring. The take-up of its coverage of the riots that affected English cities also vindicated its 2011 investment in digital products, with the launch of apps on the iPhone, iPad and Facebook.
This transformation from a print product to one that fully embraces digital allows its journalism to be read by as many readers as possible, while its "open newslist" allows readers to suggest which online stories it should be focusing on - and invites them to highlight anything that they feel it might be missing.
For advertisers, these large and engaged audiences also offer a degree of differentiation. The Guardian's sales team no longer operates in silos and now works across both print and digital. The new digital platforms on which the title can be found also offer advertisers a new creative palette. For example, Channel 4 sponsored the launch of the paper's iPad edition, making it free for the first three months before the pay strategy kicks in.
Digital now forms more than 20 per cent of all advertising revenue and 55 per cent of sponsorship revenue, but the focus on print revenue has not been ignored: this year it increased its share of print advertising.
Guardian Select - the paper's advertising network - provided an additional £650,000 in new revenue while its Open Platform, enabled by a content API, allowed the company to work with new partners in a new and closer way. Campaigns for American Express, Enjoy England and Canon were created using content directly from its API and ran on hundreds of other sites.
However, the real story behind The Guardian's success in 2011 is in the way it has broken some of the most resonating stories of the year and how it has helped to reshape the UK media scene. That, and its brave multiplatform expansion, has helped resurrect a title that was thought to be moribund, brought in new readers and shown, even to those who don't subscribe to its political agenda, that it is a force to be reckoned with.
YouTube
The Google-owned video site YouTube is Campaign's runner-up for Medium of the Year. If YouTube has not completely thrown off its user-generated shackles, 2011 was the year it started to unlock them. In addition to its partnerships with broadcasters and content producers, Google invested $500 million (£319.5 million) in original content.
YouTube is the third-largest UK website and brands are using it increasingly to launch TV ads or air longer films. As part of an LG campaign, the film director Kevin Macdonald used YouTube content to make a full-length film, while John Lewis premiered its Christmas ad on the site (alongside Facebook).
In fact, one of the most memorable ads of this year, the T-Mobile "T-Mobile wedding", was broadcast exclusively on YouTube with no media spend. To date, the video has more than 24.4 million views, received significant coverage in the press and was shown in full on Have I Got News For You.
In a major innovation this summer, YouTube gave users the option to skip video ads. Research has shown only 53 per cent of online video ads are viewed to completion and advertisers can now choose to only pay for ads that are watched in their entirety. As a bonus for creatives, ads that are less frequently skipped (ie. good ads) are charged less.
Although Google does not break out any revenue figures, we are told around 75 per cent of the top 100 advertisers have used the site. To top off a busy year, earlier this month YouTube announced a redesign of the site with customisable channels, a new home page and cleaner, simpler design.
Heart
A special mention also goes to the Heart radio network, which experienced strong revenue gains in 2011 on the back of two years of change and reinvention. From a collection of more than 30 local and regional stations, a strong national brand has emerged covering the same area with 13 bigger stations.
Heart is the biggest national commercial radio brand, ahead of its sister station Classic FM. An average 7.65 million listeners tuned in to a Heart station every week in the third quarter of 2011 for a total of 57.86 million hours, according to Rajar.
The Heart network now brings in £100 million in revenue, an increase of 17 per cent year on year. Crucially, the brand is also increasingly popular with advertisers and pricing has increased by an impressive 10 per cent.
There is more to be done before Heart becomes Medium of the Year, but Campaign likes the noises it is making, and those coming out of Global Radio as a whole - our Cross-Media and Radio Sales Team of the Year at the Campaign Media Awards.
Recent winners: London Evening Standard (2010); Twitter (2009); Dave (2008); Google (2007); The Economist (2006)
THE GUARDIAN'S 2011
January: The Guardian launches its iPhone app, which records 600,000 downloads globally. More than 100,000 users become subscribers.
April: Named newspaper of the year at the British Press Awards.
May: Coinciding with the paper's 190th birthday, May sees its website attract 50 million unique browsers at an average of 2.83 million a day - up more than 40 per cent year on year.
June: Launches its "digital first" strategy.
July: Reveals the family of murdered schoolgirl Milly Dowler was phone-hacked. This results in an extra 12,000 daily sales, up 5.1 per cent on June.
August: Coverage of England's riots drives web traffic to a record monthly high of 3.06 million browsers a day. The mobile site's growth results in 399,000 average daily unique browsers.
September: Launches a free ad-funded Android app and a Facebook app.
October: Launches its iPad edition.
November: Guardian News & Media appoints Bartle Bogle Hegarty to its a brand campaign for 2012. Its UK website records more than 60 million monthly unique users - a new high.