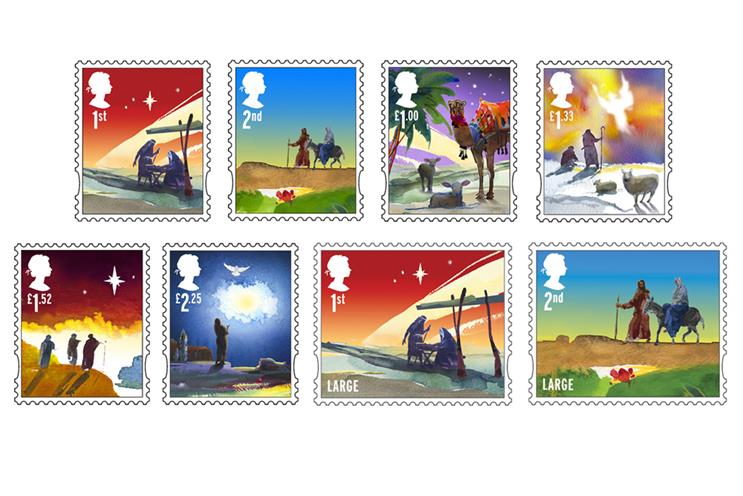 Holmes, whose real name is Frederick Cecil, has spent 60 years in adland. During his career, he has run his own agency and sold it to TBWA Worldwide, turned Sir John Hegarty down for a job and still counts The Macallan whisky as a client after 42 years.
He has also spent the past two years working with Royal Mail on the design of this year's Christmas stamps.
Holmes' designs were selected from a shortlist provided by Studio David Hillman, which Royal Mail engaged to oversee the 2015 stamp design.
"For an old geezer like me, it's a nice commission," Holmes says, adding: "I'm a paper and pencil man, but I worked with my son Toby to help me on the stamps. My sketchy watercolour drawings look great against the pure flat digital colour background."
Despite being more familiar with traditional methods, Holmes believes creatives should embrace digital techniques. "The tools are greater now. It's wonderful. We didn't have computers to work with. If great artists like Raphael had access to computers, they would have used them. If you've got a creative mind, you want to use what's around you at the time," he says.
Holmes began his adland career in 1954 as a junior visualiser. He secured the position after seeing the agency's offices by chance and decided to ask for a job: "I had the temerity to walk in off the street and ask to speak to the personnel manager. I had no CV."
He later founded his own agency, Holmes Knight Keeley (later to become Holmes Knight Ritchie and then HKR TBWA), which he led creatively from 1977 to 1992.
During his career, Holmes hired Trevor Beattie but turned down Hegarty. "John came to me for a job. He had a lovely book of wonderful stuff, but I just couldn't take on any more people," he says with a smile.
Since 1992, Holmes has run his own freelance studio. He continues to paint and has exhibited his art and collections in galleries across London including at the Royal Academy.
When asked about his age, Holmes replies: "I was born the same year that Prohibition was repealed in the US and Adolf Hitler was made the German chancellor – in 1933."
He is planning to publish a book early next year.
As for advice for younger creatives, Holmes says: "Oh, now you're putting me on the spot. I don't know… Life has these hurdles. You just need to get on with it."