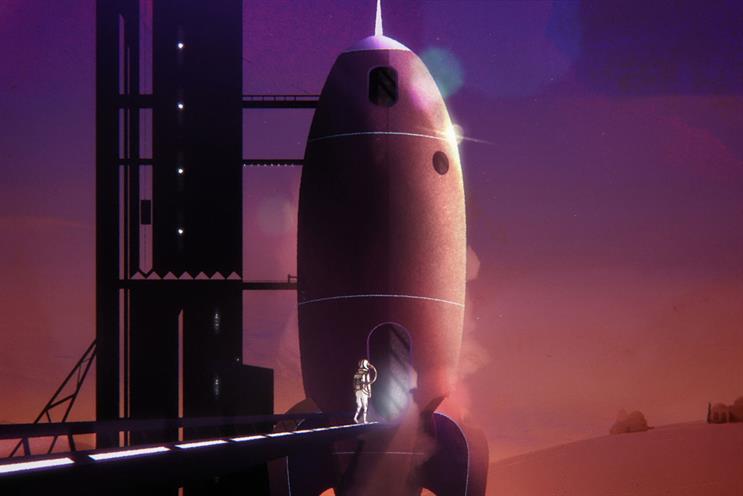 To mark the 50th anniversary of his songwriting partnership with lyricist Bernie Taupin, Elton John launched a global competition last December to make official music videos for three of his classic songs: Rocket Man, Tiny Dancer and Benny and the Jets. The contest was produced with the help of AKQA and production studio Pulse Films.
The winning videos premiered at the Cannes Film Festival and on YouTube in May. They included an animated tale of an Iranian refugee journeying to England, a futuristic talent show, and a tribute to Los Angeles.
Campaign spoke to the emerging talent behind the new music videos about their creative visions and the biggest challenges of recreating those iconic songs for a new generation.
Max Weiland – director, Tiny Dancer
The brief
Tiny Dancer was written while Elton John and Bernie Taupin were living in Santa Monica in LA, so they wanted the video to capture the spirit of that time, the light and the characters.
The idea
For me Tiny Dancer is a classic driving song and LA is a driving town. The city's identity is in its highways, boulevards, cars and people. This video is a bittersweet love letter to the phenomenon of the city, and an attempt to capture its dynamic, elusive energy. We see LA through the eyes of its people, their disparate lives unified momentarily as they listen to Tiny Dancer on their radios. It is their shared soliloquy. It connects their stories as we feel their struggle and their joy.
Challenges
Shooting that many characters and telling that many stories in such a short amount of time was really difficult. I also wanted to represent the whole of the city and LA is a big place with pretty awful traffic, so we really didn't make things easy for ourselves.
What was your favourite moment from the shoot?
100% – hanging out with Marilyn Manson. And casting. I absolutely loved casting in LA. You get to meet some of the maddest and most interesting people.

Max Weiland
How did you get into directing?
My dad is a director. He wanted me to go to law school, but after growing up on sets, directing was all I wanted to do.
I started out as a creative in an advertising agency where I wrote a script for Freeview and asked Daniel Wolfe to direct it. Working with Daniel was really inspiring and on that job I met Sally Campbell [Somesuch founding partner] who came straight up to me and said: "When you think you are ready to direct please give me a call." I called her the next day.
What's next?
I want to do some more music videos and I am currently developing a comedy TV series and a feature.
Jack Whiteley and Laura Brownhill - directors, Bennie and the Jets
The brief
Laura: We entered the choreography category and our challenge was to convey the narrative of a "sexy, sci-fi, androgynous" girl band led by Bennie, a rock goddess, and backed by her Jets, who appeared as identical automatons in the style of Fritz Lang's 1927 German Expressionist science-fiction film Metropolis.
Jack: Elton and Bernie talked about their inspiration for the song and their two main references were Metropolis and the photographer Helmut Newton, who was famed for his sexy, black and white photography. They also hinted towards the idea of Bennie being androgynous. Everything pointed towards a retro-futuristic, black and white aesthetic.
The idea
Jack: Laura comes from the world of theatre and live-event performance. She devised the initial concept design of the set and the idea of it functioning like a human-sized carousel-cum-zoetrope. Together, we came up with the narrative, which was the idea of exploring the genesis of Bennie and the Jets, the fictional girl band upon which the song is based. Taking the lyrics "weird and wonderful" and the notion of "the future as if imagined from the past" as key inspiration, we devised the concept of a retro-futuristic talent show in which Bennie is auditioning to find her backing band.
Laura: We also explore the fear and desire of human vs. machine and the idea that Jet is willing to sacrifice her humanity and individuality to become an automaton to work under Bennie's rule. Bennie is depicted as an androgynous, mystical deity that is revered across the galaxy and is untouchable, while Jet displays the human qualities our audience can affiliate with.
Challenges
Jack: We had to generate a complete narrative through the art of dance and movement to fulfil the choreography brief. The song isn't short either, and there's not much progression in it, so we were conscious of trying to keep things interesting and new. Therefore, it was essential we came up with a strong narrative and a clear motivation for the characters. We devised four distinct sections: the solo dances, the final parade, the cloning section, and the end synchronised dance sequence.
The black and white aesthetic also provided a limitation for our costume designer, Rosa Dias, who had to work harder with form, shape and texture to create unique and distinguished looks for each character.
Laura: We wanted to include a range of diverse dance styles, from krumping to drag and ballet, in order for each character to express the personalities of the "weird and wonderful" Bernie writes about in his lyrics. We also researched androgyny in dance and gender-neutral movement. Our cast was half male and half female, all of whom explored elements of the alternative gender role. From a stylistic point of view, we tried to convey elements of Elton John's elaborate stage ware from over the years within each costume. Without being allowed to feature him in the video itself, we brought the essence of him where we could.

Jack and Laura
What's next?
Laura: I have a dance project on the back burner called "Monster Ballet", which is a collaboration with a composer called Simon Knighton that I hope to bring to fruition with a live orchestra in Amsterdam. [Bennie and the Jets] was my first attempt at directing music videos, and I would love to seek out more opportunities to continue the collaboration with Jack on making bespoke, artistic music videos.
Jack: This was the first time I'd directed with someone else and it's been a great outlet for me to explore a different style of filmmaking. I'd like to develop more choreographic and theatrical creative concepts with Laura and build on this momentum, while continuing to pursue my own solo work. The future's bright; the future's black and white.
Majid Adin – director, Rocket Man
(in collaboration with animation director Stephen McNally)
The idea
Majid: The first thing I did was to translate the lyrics of the song into Farsi so as to have a better understanding of the song. Every single lyric immediately struck a chord with me on a personal level, evoking the perilous and lonesome journey I had been on as a refugee having to flee my home country. This is what provided the subject matter for my treatment.
Challenges
Stephen: The biggest challenge was the amount of time available to make the video, as we needed to get it ready in time for the Cannes Film Festival. Where these processes would usually be staggered over the course of a production, here they were all continuously feeding each other at the same time. Another impact was that it left us with little margin for error, very little time for retakes or adjustments. We would extensively discuss the shots with the animators beforehand, talking through ideas they wanted to bring to the shot, until we all had a firm idea of where shots were going. The animators would block out key positions really roughly, so we could adjust or affirm before going too far down the line.

Majid Adin
How did you get into directing?
Majid: I studied fine art at university in Iran, and after my BA I chose to major in animation, because it combined my two passions: film/cinema and fine art. My ambition has always been to direct.
What's next?
Majid: My aim for the future is to continue working with Blinkink to create a new short film by the end of 2017 and I dream of one day scooping an animation Oscar.