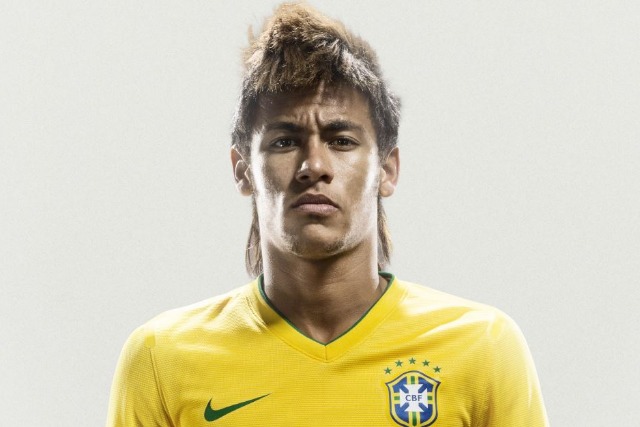 He has been billed as the face of the World Cup, but - hardcore football fans aside - few UK consumers will recognise the mercurial talents of Brazil star Neymar Jr.
Neymar, who plays his football in Spain with FC Barcelona, is already a huge celebrity in his native country and his fame is spreading. Brands including Nike, Beats by Dre (below) and Castrol have recruited the 22-year-old for pre-World Cup campaigns, while he also recently adorned the front cover of Vogue's Brazilian edition alongside supermodel Gisele Bündchen (right).
Yet, in terms of overall global recognition, he lags some way behind the undisputed kings of soccer, Portugal's Cristiano Ronaldo and Argentina's Lionel Messi. Those two have left audiences gripped with their once-in-a-generation sporting rivalry, both on and off the pitch: the former plays for Real Madrid and the latter Barcelona, while Ronaldo is signed to Nike and Messi to Adidas.
Is there room for a third? Steve Martin, chief executive at M&C Saatchi Sport & Entertainment, thinks there is: "This is [Neymar's] time. I would question that if this wasn't a Brazilian World Cup, would we be saying the same thing? But it is a Brazilian World Cup.
"He is almost an unknown entity, his story hasn't been told yet. So, for Beats by Dre or Nike, it's a pretty obvious move," adds Martin.
Heir to Pele
Neymar is seen is back home as taking on the mantle of that other great Brazilian football legend, Pele. Both played for Brazilian club Santos FC and Neymar's rising reputation soared to new heights when he helped Santos to win the Libertadores – South America's equivalent of the Champions League – title in 2011.
With the greatest respect to Messi and his undoubted ability, he simply doesn't have Neymar's charisma and appeal off the pitch.
His move to Barcelona last year has disappointed many – not least over alleged financial irregularities with transfer fees, as well as mediocre form on the pitch – and ex-Barcelona icon Johann Cruyff recently argued Neymar has created a "problem" for the Catalan club.
However, thanks to his 30m-plus followers on social media, his dizzying array of mullet-style haircuts, and his connections with popular local music stars such as MC Guime (see video below), Neymar has become the poster-boy for Brazil's rising new middle class, otherwise known as 'Class C'. His "down to earth" persona has also cemented his celebrity, reckons Jerry Clode, founder of House of Jezmo, a consultancy based in Sao Paulo.
Misha Sher, director at MediaCom Sport, which manages Neymar's commercial relationships, believes the Brazilian offers a rare combination of athletic prowess with charm and likeability not matched by the game's other leading lights.
"What brands ultimately want is a trendsetter, someone who transcends cultural and social divides and influences purchasing decisions," says Sher.
"Other than being a superstar athlete, Neymar has a personality and style off the pitch that sets him apart from someone like Messi. With the greatest respect to Messi and his undoubted ability as a player, he simply doesn't have Neymar's charisma and appeal off the pitch."
With Ronaldo and Messi both "over-exposed" due to years of commercial deals, Sher claims that Neymar offers "better value" to his partners. That is perhaps under-stating Neymar's roster of sponsors, which includes Unilever, Panasonic, Red Bull and Santander, but there is clearly potential for UK and European brands to exploit his rising prominence.
All sports fans enjoy a fairytale storyline and, should Neymar lead Brazil to World Cup glory this summer it will lead to the birth of a global star – arguably the biggest since the Pele hung up his boots all those decades ago. Brands will be watching with interest.