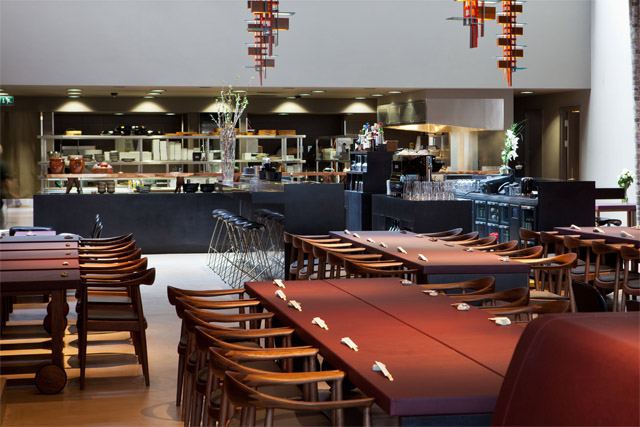 Anyone who has worked in restaurant marketing since the mid 90s will remember when our daily lives consisted of proof-reading adverts for Time Out et al, printing leaflets with maps on, organising vouchers, designing postcards and so on.
Our digital experience (depending on where you worked) would be chasing the web team to update the website with a new location and maybe sending out a monthly email to a rapidly growing online database (fuelled by the eligible cards customers left their scribbled email addresses on.)
The only images people saw online were pretty much those we provided. We thought we controlled our brands.
Now look at us.
We don't do print adverts. Ever. We don't print vouchers. And we certainly don't have a nicely branded postcard display for customers to collect.
For the majority of us marketers the main focus is on social and loyalty, and we simply don't waste valuable time sweating the small stuff which reaps little benefit.
We're glued to Twitter. We obsess over Facebook insights. We scroll the blogs and listing sites for mentions we can respond to. We update our own websites with excellent CMS systems. We organise events which get people talking. We analyse stats on Google Analytics. And we truly understand that we are not at all in control of our brand: "they" are.

Perfect platform
Pick a restaurant you know and the chances are they'll be on Twitter. It's the perfect platform to communicate to existing and potential customers. There are restaurants, bars and cafes out there generating unprecedented loyalty and kudos via Twitter, therefore securing huge amounts of positive publicity.
Just have a look at Byron (below, right), Patisserie Valerie, Tortilla, Vapiano, Hawksmoor, GAIL's bakery and The Ship pub in Wandsworth – all with a loyal Twitter following and a fun, engaging, informative feed which without doubt helps create brand awareness and drives people in spending money.
The key with tweeting for restaurants is the same as it is for any business - don't sell. Just talk, listen, engage and the sales will follow.
Ten years ago we couldn't have imagined a world where people do our marketing for us before we're even open, but smart marketing and PR people use Twitter to launch a new opening or concept.
Take Sticks'N'Sushi as an example. A cool Japanese restaurant group with a handful of locations in Copenhagen decided to open their first UK restaurant in Wimbledon. Yes, Zone 3 and miles away from West End glory. They created a Twitter account 12 weeks before launching and started following local people, press and food bloggers updating them on their development with the build and menu. By launch time they had over 350 followers who were interested in the concept and keen to try it out.
Invites to the launch party via Twitter generated even more excitement, followers, conversations and of course led to visits. This, in turn, led to photo sharing on Instagram and peer recommendations. A year later, with a strong and loyal following, Sticks'N'Sushi hasjust announced a second launch in Covent Garden – also via Twitter. That tweet was RT'd enough times to reach over 40,000 people in four hours.

Constant emails
We all know the restaurant chains who constantly email offers like "two pizzas for £12". They've been doing so for about six years since the recession hit in 2008 and are now unable to stop. The fact is, if they stop doing these promotions, the figures on the bottom line would make the FD cry so can you blame them? It's a business after all. Yet, on the flip side, what does it mean for the customer who gets the same predictable message on the weekly email? And does anyone actually visit without a discount of some sort? Is it driving long-term brand loyalty?
It doesn't have to be about discounts and this is where the smaller independents have the upper hand on the larger chain restaurants. They can make decisions quicker. No four-hour meetings to discuss one promotion - they just agree the basics then crack on and make it happen.
Pop-ups in pubs has become a 'thing' over the past couple of years. Open up small, do what you do well, and build up a loyal fan base, so when you open up a proper site of your own half the hard work has been done.
The smaller independents have the upper hand on the larger chain restaurants. They can make decisions quicker.
Flat iron trialled its £10 steak concept in an East London pub over summer 2012, to figure out what worked and what didn't before opening its first site in Beak Street to massive success.
Pizza Pilgrims (arguably the best pizza in Soho) has an oven-truck in Berwick Street with a longer term plan on securing a bricks and mortar site in the west end. Its strategy of opening a "proper" restaurant with an already solid-built reputation and the support of over 6000 fans on twitter is clever and yet so simple.
Finally, back in the day you weren't anybody if you didn't have a flash website with at least 30 pages of information, your history and FAQs. Nowadays less is definitely more. Whilst it may be important to the business owners, the fact is that people don't always have time to read it –your analytics are likely to tell you the two most-visited pages on your site will be location and menu. The rest will hardly get a look-in.
Spuntino, Meat Liquor, Chicken Shop, Lardo and Honest Burgers all basically use one page websites. In their instance, that's all they need. Whilst it's good for brands to get key messages across, it is always worth questioning, "Do our customers actually give a sh*t about this?"
If not, don't do it.

Vikki O'Neill is a freelance marketing consultant. She currently works with brands including Tortilla, Sticks'n'Sushi, Square Pie and Patisserie Valerie.
Follow @vonmarketing