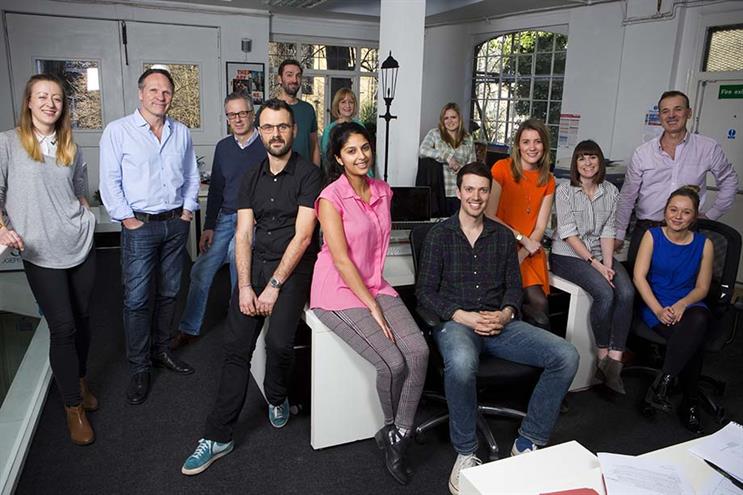 SIAN SMITH, ACCOUNT MANAGER
Smith joined Sledge in 2013 with a background in PR, branding and business development. She recently moved into her role after working as a new business executive at the agency.
Why did you choose to move into account management?
I really enjoy being hands-on. I am a proactive person and like challenges, so I took the leap. It was daunting for me but very exciting. I enjoy being involved in the whole process, from the pitch to pulling off the final project.
I'm going to relish being more hands-on for the next few years, but after that, managing director's not that far away, right?
What is the working culture like at Sledge?
We like to think of ourselves as 'the fun agency'. We are relaxed and approachable, which is probably one of the main reasons we've kept some of our clients for more than ten years.
No matter how the team changes, the Sledge culture is renewed and refreshed. We're a very close team and although there is a hierarchy here, you wouldn't know it.
What advice would you give young people who are looking to enter the experiential industry?
It is tough to get into, but once you appreciate that you start to view it from a different angle. You shouldn't see anything you've done before in a negative way - you have to look at what skills you have and tailor them into what you want to do.
Don't give up - take on any opportunity you can and don't look too far ahead. It has taken me five years to get to where I wanted to be, but everything I have learnt during that time has proved invaluable.
ADAM SERLE, PRODUCTION DIRECTOR
Serle was inspired to apply for a job at Sledge by a tweet from the agency's account and joined in 2012. He began life in the event industry at caterer The Admirable Crichton before going on to work for the likes of Exposure and TRO. Serle recently contributed to Event's Event Tech 2015 feature on drones, VR headsets and beacons.
What does your job entail?
As a producer the workload is very varied - you're an internal resource used across all your accounts. My other role is looking after our visible creative output.
I ask if we are using the best technology and expressing a message creatively. An average day involves admin, research, team management, client work, finance and writing content or pitch documents.
What are the challenges of international work?
We have a network and resources that we can call upon wherever there's an opportunity for us to add value. The only restraints so far have been the language and sometimes the culture - we have to understand what the important messages are in different places. When that happens, we do our research or we partner with people who know the market.
Why did you choose production and not account management?
For me it's about variety, and production is more focused on areas that I'm interested in, such as technology.
I enjoy understanding the nuts and bolts of how things are put together, and there is always a bit of engineering involved.
Having studied art and photography at university, I very much enjoy the physical side of the creative process.
ASHLEY PUGH, CO-OWNER AND EXECUTIVE PRODUCER
Sledge was Pugh's first introduction into the agency world when he joined 21 years ago as head of film and video. After a stint as a freelance producer and head of production at music video company Alchemy, he returned when there was a chance to buy the business.
What has been your favourite event to work on at Sledge?
The Dubai World Cup in 2013 was a really good integrated play between film and entertainment. It was hard work, but watching the event happen, with a 100-piece orchestra and 50,000 people going crazy, was spectacular.
Why do you have an in-house video team at Sledge?
It's hugely important.
It helps the client tell their story before and during the event and amplify it afterwards, which is important with the rise of social media. Nowadays it's not expensive to go in-house, in fact I think it's cost-effective because you get a level of consistency. The team can be there from the moment a project comes in to the final cut of the video.
You've stayed loyal to Sledge throughout your career. What has made you stay?
I have a very long and close relationship with my business partners, but mainly I love the company ethos. We're a fun place that works and plays hard. I've been at bigger companies and that philosophy changes when there is more than 100 employees. I like the idea that you can walk into the office or an event and everyone will know each other.
Fact file
Full-time staff: 22
Established: 1991
Location: Shepherd's Bush, London
Turnover: £8.3m
Longest-serving client: O2 Telefonica for more than ten years Sectors:
Telecoms; financial services; travel and tourism; sport; family brands;
retail
Around the corner
Sledge wants to keep expanding with a base in Rio for 2016, following the launch of its Dubai office last summer. The team will also focus on integrating live events with digital.
Future events
Rugby World Cup (Sept-Oct 2015)
Inaugural project with new client HP (2015)
Children's festival Bounce (August 2015)
Recent News
Former Sledge commercial director joins Banks Sadler
Top brand experience agencies: Sledge
Comment below to let us know what you think.
For more in-depth and print-only features, showcases and interviews with world-leading brands, don't miss the next issue of Event magazine by subscribing here.