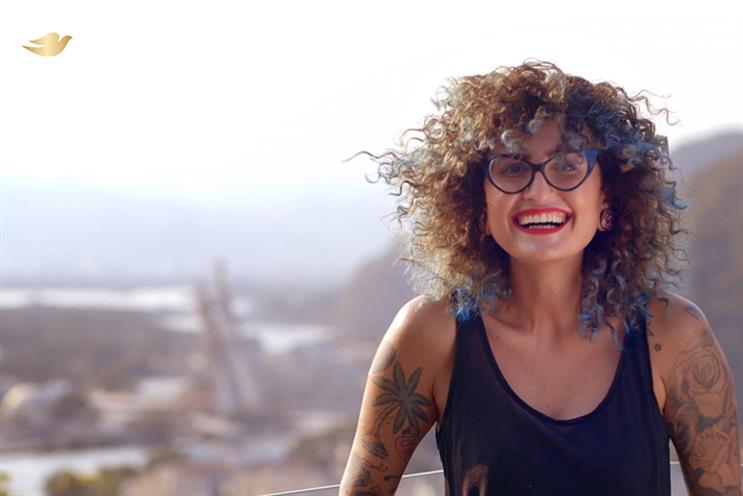 Anonymous social media networks may seem risky for advertisers, but one 4-year-old app has been gaining their confidence.
Whisper, a platform where unnamed users share secrets or "whispers," as they are called, has been testing new ad products for the past year and is gaining legitimacy with advertisers. Until recently, the social network's advertisers have been mostly entertainment companies, with brands like Disney, Hulu and Universal Studios experimenting with sponsored posts. However, a major global consumer packaged goods company recently joined their ranks with a campaign that makes use of almost all of the platform's advertising products.
For two weeks, Unilever is running the first branded story on Whisper, a Dove campaign from Mindshare that extends the brand's "Love Your Hair" initiative on the social network.
"Our superpower is that we let you read other people's minds. It's hard not to have empathy when you open the app up and you start to read some of the thoughts and feelings that people are sharing," said Brian Liebler, Whisper's VP of advertising sales. "It's a different experience and one that is resonating with advertisers because of the authenticity you can't get anywhere else."
Whisper was launched in 2012 as a platform where people could share their innermost thoughts and feelings without the fear of backlash from followers. For each "whisper," the platform's image and video-matching technology suggests relevant backgrounds based on keywords. In 2014, the platform began to curate posts into BuzzFeed-style articles. Lists of "whispers" appear in stories on the app's website, like "14 Surprising Confessions From Men Who Don't Feel Masculine Enough," or "17 Eye Opening Confessions From Emancipated Teenagers." These confessions have gained the app 17 billion views a month and 30 million monthly active users.
Whisper's more robust content also began attracting advertisers like MTV to create branded posts and recommended images that use watermarked logos to show users they are interacting with ads. Last year, Whisper began testing ad products that give brands ownership of keywords. For instance, Dove is using "Brandwords" to leverage keywords such as "hair" and "hairstyle." When a user types one of these keywords, they are served a Dove-branded background to use for their post. These branded backgrounds represent the core of Whisper's ad products, according to Liebler. In fact, he said over 60 percent of the time, a user will choose a branded background when presented with one.
Dove's branded story, "17 Confident Women Share What Makes Their Hair So Fabulous," is a collection of user posts describing their love for their hair. The brand is also using sponsored polls, branded photo posts and promoted Whispers—posts added to the app's "Popular" feed. "We've realized there's a tremendous value in the thoughts and feelings our users are sharing," said Liebler. "Ultimately, what we're doing is connecting brands with emotions."
Dove will soon learn just how effective these Whisper products are. It will be the platform's first advertiser to test its campaign with third party research firm Millward Brown.
What is known right now is that anonymous social apps, once fallen out of favor due to privacy issues, are experiencing a resurgence in popularity. Just last month, two new platforms launched: Dusk, a live stream app that allows users to broadcast without revealing faces or voices, and Telegram, a messaging app that offers an anonymous blogging platform. Even Secret, an anonymous app that shuttered last year after facing criticism over privacy and bullying, might be resurrected.
Matt Tepper, chief strategy officer at Wunderman, said anonymous platforms like Whisper are attracting advertisers because they allow marketers to identify audiences in a more natural state. "Platforms such as Instagram are more about people displaying their ideal selves versus anonymous apps, which allow people to demonstrate their actual selves," he said.
In August, Goodby Silverstein & Partners used Whisper to launch a new eye emoji for the Ad Council's "I Am A Witness" campaign for just that reason. Victoria Barbatelli, senior communications strategist at GSP, said the platform aligned with the campaign's goal to unite people who have been bullied and those that have witnessed it. "Whisper has established itself as a safe space for people to share their secrets and their vulnerabilities," she said.
Whisper also caters to a young demographic. "It's a rapidly growing app for our Gen Z target," said Barbatelli. According to Liebler, more than 80 percent of the app's user base is between 17- to 34-years-old.
According to GSP, the Ad Council Whisper campaign was a success. Two sponsored posts generated 500,000 impressions and 2,000 replies, according to Barbatelli. "It was great to see people come out of the woodwork and begin to share their own experiences about being bullied," she said. "We didn't experience any downsides."
Of course, the downside to online anonymity is that it more easily allows for bad behavior. Twitter, Facebook and Instagram, platforms where users can also create anonymous profiles, have become notorious for trolls spewing hate speech and have made attempts to curb it. Yik Yak, an anonymous app like Whisper, has dealt with copious reports of harassment, and colleges have banned the app to protect students from threats. It began requiring users to add handles to their profiles in August, but reversed the decision in November.
A major concern for brands on anonymous sites is the risk of appearing alongside posts with messages they do not condone. "Anonymous social media is not for the faint of heart," said Rachel Pasqua, practice lead at MEC North America. "There's the very real concern of being juxtaposed with content that's off brand or off-color."
Whisper has a rigorous program to identify potentially harmful posts. Every whisper goes through what the company calls the "arbiter," a machine-learning program that checks for profanity and hate speech in real time. The arbiter reviews about 70 percent of the content. The rest goes to a human team. And like other social media sites, Whisper has community guidelines with a "golden rule": "Don't be mean, don't be gross and don't use Whisper to break the law." And if a user posts about harming themselves, Whisper directs them to the company's nonprofit YourVoice, which is dedicated to raising mental health awareness for young adults.
It's no secret that social media sites like Facebook and Twitter have had issues with privacy in the past. On Whisper, identiable information is more difficult to detect unless a user places their name in their username which the platform advises users not to do. For its own purposes, the platform does assign every user with a random 40-character identifier, and collects user information and content, including text and images contained in posts, replies and chat messages. Whisper's privacy policy states, "They may be viewed, shared and modified by our users, us and others for commercial or personal purposes." Whisper users automatically share their location when active in the app, but can choose to turn off location tracking when they are not using it. They can also opt-out of sharing their web browsing information.
Still, for advertisers, the potential positives may outweigh any possible negatives. "The greater the risk, the greater the reward," said MEC's Pasqua. "Where else are you going to get such candid points of view—and feedback—at such scale? Want to know what people really think of your brand or product? Whisper polls can tap into 30 million people who won't have any problem telling you what they really think."