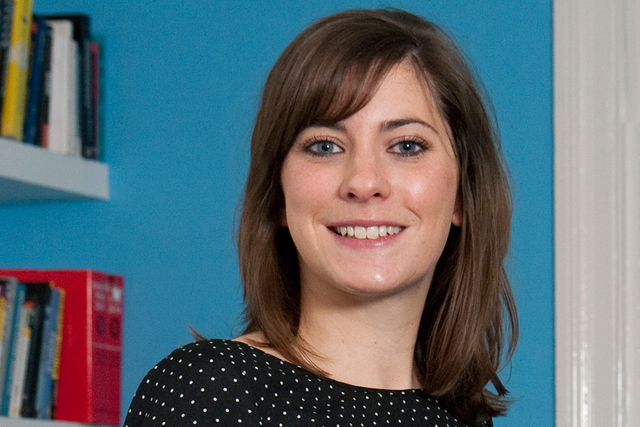 IPA and Campaign Women of Tomorrow competition, in partnership with The Telegraph Wonder Women and Stylist.



Brand management
Rachel Eyre, senior brand manager, Barclays
She is: An intellectual powerhouse, able to turn her thinking into practical application. Sparky, articulate, mature, energetic, committed, inclusive, a lateral thinker.
Power points: A first-choice line manager for members of Barclays' elite Future Leaders Development Programme. Excelling in an extra-curricular MBA, supported by the bank. Transformed the remit and reputation of the brand team from an identity management and sign-off function to a vital source of brand and communications strategy. Achieved top performance scores.
Most likely to say: How can we do this better?
Impressed by: Courage. Inspired by women who are assertive and direct but retain their femininity and those who manage dedication to a family and to work.
Life outside work: Holidays, netball, running, friends. Consultant marketing mentor for a Kenyan charity.


Creative
Malin Hanås, creative director, Razorfish
She is: Empowering, a teacher. An active mentor, leading the agency's creative intern programme.
Power points: Since joining Razorfish in March 2012 as the only woman in the agency's creative department, she has been instrumental in bringing in at least another ten women. Ran her own agency in Stockholm. Lectured at Hyper Island, SheSays and Internet Week Europe. Webby Award winner for the Hugo Boss fragrance Bottled Night.
The road to here: A Hyper Island diploma in digital media. Worked at agencies including Kong Amsterdam, Springer & Jacoby International and JWT Amsterdam.
Most likely to say: Don't live by a one-liner.
Impressed by: People expanding their skillsets.
Life outside work: Crafts, especially sewing. Hiking, reading and writing.

Media planning
Victoria Appleby, associate director, MediaCom
She is: Team-focused, collaborative, ambitious, trusted, a straight-talker.
Power points: Aiming for board directorship to be a role model to her daughter. Will run the graduate training scheme next year and has taken responsibility for one apprentice already.
The road to here: Joined Media Insight from university at Goldsmiths, London, as a planner and buyer. Moved to MEC as communications director and head of radio, where she remained for five years.
Most likely to say: I want work to count.
Impressed by: People who speak their minds.
Life outside work: The arts; has written a novel, Secret Stone, which features a strong female role model.

Strategic
Shelina Janmohamed, vice-president, Ogilvy Noor
She is: A pioneer. Helped found the world's first specialist consultancy for building brands with Muslim consumers.
Power points: A winner of WPP's Atticus Award for best original thinking. Named in the world's 500 most-influential Muslims and the UK's 100 most-powerful Muslim women. Authority on Islamic branding and Muslim consumers.
The road to here: Fifteen years of marketing for brands such as Cable & Wireless, Vodafone and Motorola.
Most likely to say: Give a man a fish and you feed him for a day. Teach a man to fish and you feed him for a lifetime
Life outside work: Has written a critically acclaimed book, Love In A Headscarf. Published across ten territories, it reached number two on India's bestseller list.

Client services
Alex Goat, client services director, Livity
She is: Infectious, passionate, a visionary. A champion of diversity and a nurturer of talent.
Power points: Board member by the age of 29. Strategic lead on multiple Campaign BIG and MAA award-winning campaigns. Consultant to Foundation Rwanda, a charity for women and children who have been victims of sexual violence as a result of genocide.
The road to here: Joined Jack Morton, then spent six years at Iris, rising to become European head of people and lead on Reckitt Benckiser, before joining the youth engagement agency Livity.
Most likely to say: I'm working late tonight.
Impressed by: The power of marketing to create a tangible social, as well as commercial, benefit.
Life outside work: Silversmithing, photography, writing, travelling and dog-owning.

Media buying
Gemma Lee, head of radio, Carat Manchester
She is: Target-driven. Natural, authentic, a warm leader. Against demanding and confrontational behaviour in business. Passionate about radio.
Power points: Suffered a stroke in April 2012 at the age of 30, but refused to let it hold her back. Gained two promotions by November 2012. Has led billings and profitability growth, partly through an approachable negotiating style. Has developed a flexible approach to managing and coaching.
The road to here: Began as researcher and planner at Bauer. Joined Carat Manchester as a media executive in the radio investment team.
Most likely to say: You only live once.
Impressed by: Those who pick themselves up and carry on.
Life outside work: A two-year old little boy and two stepsons aged ten and seven maintain her work-life balance.

Creative
Vicki Maguire, creative director, Grey
She is: A go-to person to solve an "uncrackable" brief. Straight-talking, unflappable, energetic, a mentor.
Power points: Mentored by Paul Smith; fired by Vivienne Westwood. One of the most-awarded creatives in London last year, including 28 gongs for the British Heart Foundation's "Vinnie" and a British Comedy Award.
The road to here: Studied fashion design at university. Worked for Ted Baker before joining Ogilvy, then Wieden & Kennedy among others.
Most likely to say: Do as you would be done by – in an energetic way.
Impressed by: Those with the energy and ambition to start their own businesses. Game-changers. Anyone who is generous with their time.
Life outside work: Owns Suck and Chew, a sweet shop in East London.

New business
Hannah Matthews, group marketing director, Karmarama
She is: Energetic, positive and spirited. Someone who makes things happen. Enthusiastic and motivated. A force of nature.
Power points: Founder and outgoing president of Bloom, a members club for women in the communications industry. Has led Karmarama into the top-five on Campaign's table for new-business wins, with an 80 per cent strike rate.
The road to here: Ogilvy graduate scheme after Manchester University. Joined Karmarama as head of new business in 2004.
Most likely to say: What goes around comes around.
Impressed by: Any celebration of the success of women and their contribution as role models.
Life outside work: Pilates, healthy food and ping-pong.

Media planning
Chrissy Totty, strategy director, Vizeum
She is: Open, flexible, optimistic, enthusiastic. A believer in the power of face-to-face communication.
Power points: Media Week's gold winner for Agency Rising Star. Winner of the WACL Patricia Mann Award for Excellence. Vice president of Bloom. Initiated a company-wide programme to train employees in idea generation.
The road to here: Politics degree at the London School of Economics. A background in media recruitment before joining Mindshare.
Most likely to say: Don't judge by title or appearance.
Impressed by: Random things which bring a richer experience.
Life outside work: Go-karts and car racing, and marathon running.

Strategic
Lizzie Shupak, senior business strategist, LBi
She is: A challenger and direction-setter. A "hybrid" strategist – a blend of creative strategist, business consultant and client facilitator.
Power points: Speaker at the inaugural TEDxOxbridge on diversity and creativity. Regular blogger.
The road to here: A background in strategy and consultancy, both agency and client-side. Visiting researcher at the University of Columbia.
Most likely to say: Fancy a shrimp?
Impressed by: The passion of junior team members, which she tries to work into her projects.
Life outside work: Founder of Wok+Wine, a 3,000-strong network who meet to discuss ideas over a huge wok full of prawns, fuelled by red wine.

Judges: Claire Beale, Haymarket Business media; Karen Blackett, MediaCom; Tracy De Groose, Carat; Roisin Donnelly, Proctor & Gamble UK & Ireland; Annette King, Ogilvy EAME; Debbie Klein, WCRS; Nicola Mendelsohn, Karmarama; Cilla Snowball, Abbott Mead Vickers BBDO; Lisa Thomas, M&C Saatchi.