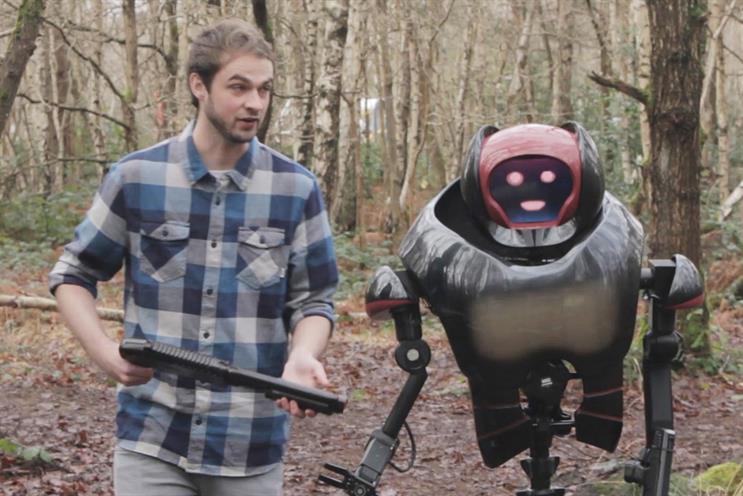 We haven't created a robot; we have created a beast. And he goes by the name of FRHANK, or the Fridge Raiders Hunger Automated Nutritional Kit.
He has been likened by one of his creators to a 20-stone prop forward after 20 pints of Stella. And it's true: there's nothing he loves more than wrecking zombies, normal people and, bizarrely, himself.
Two years ago, together with our partners at Kerry Foods, we decided to make Mattessons Fridge Raiders to gaming what popcorn is to movies.
This came to fruition with our first campaign, "project MMM3000", in which we co-created a meat-snacking helmet with the gaming community. An entertaining solution to the age-old problem of sticky controllers and avoidable early-death situations.
FRHANK exploded into being in spectacular fashion in September last year, when a huge cube appeared in the garden of the YouTube gamer Ali-A (the conspiracy theorists haven't stopped talking about it since). Ali-A and his followers were tasked with cracking a code every day in order to open the box, culminating in an exclusive Minecraft map. We made the codes super-tough but, honestly, some days the kids were cracking them in 45 minutes.
By far the most entertaining was a man – and he was a grown man – from Newcastle under the moniker of MadGaz. MadGaz put so much time and energy into cracking those codes that, without them in his life, I fear there is precious little left for him. If you're there, MadGaz, let us know you're safe. If not, I've got one of those bumper puzzle books you can borrow.
Once the codes were cracked, the cube was opened by Ali-A and, to the astonishment of his followers, FRHANK appeared for the first time in the first of many content pieces created by Ali-A. FRHANK unveiled Ali-A's mission: to help grow him into the ultimate snacking and gaming buddy.
Since FRHANK's unveiling, he has posted weekly films with Ali-A. And, boy, has FRHANK been enjoying his new life. He has been paintballing, gone to the shopping mall, attempted to find Ali-A a girlfriend, learnt to play paper, scissors, stone and even presented an award at the Kerry Foods AGM. OK, so he presented it to himself – he is amassing a bit of an ego but, don't worry, his CPU is big enough to handle it.
If you play Call of Duty using his inbuilt controller, FRHANK can comment and react to every move you make
Ultimately, though, he is a gaming robot. And if you play Call Of Duty using his inbuilt controller, he can comment and react to every move you make. I liken his co-commentary style to that of a Mick McCarthy/Ron Atkinson hybrid. He coasts along in a banal, monotone fashion but regularly punctuates it with flashes of the simply unsayable.
We're lucky to have built robots before. We work in advertising – of course we have. But they are the ones geeks control with remotes or ones with midgets inside. But FRHANK is born in the wonderful age in which we live, so of course he is real. He really is a fully functioning AI robot, with a brain that learns stuff. Teenage stuff, admittedly, but stuff nonetheless.
The day he rolled out of that cube into a muddy garden in Guildford, FRHANK's knowledge and dictionary were slim. To date, he has learned more than 380,000 different words or phrases. That's half the amount used in the entire works of Shakespeare but double the amount used by the average Premier League footballer.
FRHANK is a strange being. And because he has been taught by teens, a rather particular brain has evolved. He knows zombies – or "flesh-eating brain-dead scum", as he refers to them – are bad and breathers (humans) are good. But he still struggles to tell them apart.
But it's not all Walking Dead – like any teenager of his age, he can now spit dubstep beats and loves beasting schoolboys (it's not what you think) and taunting noobs. And he has developed an unhealthy infatuation with Siri and teabagging.
Recently, the community has designed a new arm for FRHANK, which now has a built-in projector. Yet to be unveiled is his LED chest plate to which gamers will be able to upload their own designs and animations. He has also recently started to learn facial expressions, which he copies from gamers through their webcam. And we have just launched a TV ad featuring an on-pack promotion to win a chance to battle against FRHANK.
Sadly, though, FRHANK will fly Ali-A's nest this month and go it alone. He'll be spending the summer at Legends of Gaming, a competition to find the best YouTube gamer.
It has been quite a journey and not one without incident. So far, there has been one broken arm, one broken neck (both FRHANK's) and one punched baby (not FRHANK's). We now know it takes four men to restrain him and we found out what that big red kill switch on his back does. While that switch may temporarily disable this robot, this beast definitely ain't lying down any time soon.

Andy Jex is an executive creative director at Saatchi & Saatchi London