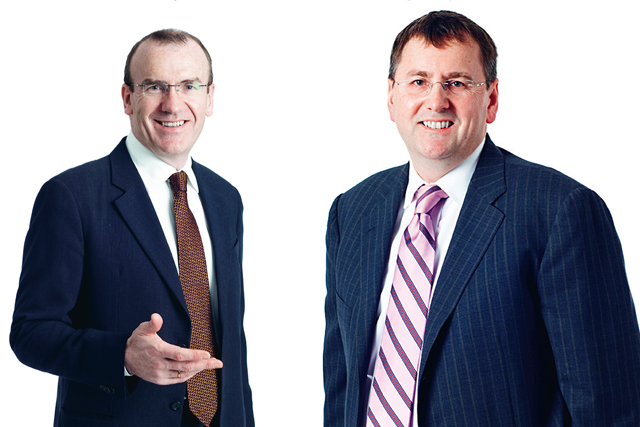 Last week marked the leadership handover of a global superpower.
After 23 years - 15 as chief executive of what has become, under his tenure, Britain's dominant retailer and the world's fourth-biggest - Sir Terry Leahy has passed the baton of running the £62.5bn-turnover, 5000-store Tesco to new boss Philip Clarke.
Clarke, Tesco's former international and IT director, has himself spent 30 years at the company. A safe pair of hands he may be, but nonetheless he will want to make his own mark. Clarke will be keen not only to continue on the current successful path of expansion at home and overseas, but also emulate Leahy as a figurehead and be recognised as the man directly responsible for Tesco's future growth.
Clarke said last week that he plans to use the 'skills and scale of Tesco to create more value than any other retailer'. He also intends to 'globalise the best of Tesco', giving an insight into his ambitious mindset.
The embedding of its data-rich Clubcard (described by Clarke as 'membership to the Tesco way of life') in the fabric of the supermarket has been partly credited for its spectacular growth. Combined with ecommerce and high-profile ad campaigns using its 19-year-old, but ever-relevant 'Every little helps' strapline, marketing has put the retailer firmly at the top. But what will the Tesco of the future look like?
Marketing asked key figures from across the industry what they believe the new boss should have in his longer-term sights as Tesco enters the post-Leahy era.
USE TECHNOLOGY TO CONNECT HOMES AND SHOPS
Kate Burns, Senior vice-president, AOL Europe, and a former marketing director at Google UK
Technology will be a major driver in Tesco's future, not simply via web commerce, but through connected devices (utilities) that drive its consumers to engage and purchase its products and services.
By embracing the internet in a platform-agnostic way, it increases its opportunities to connect with consumers - its iPhone grocery app and recipe app are great examples. Tesco has a great foundation to capitalise on advances such as the potential to buy ingredients or products seen on cookery shows via web-connected TVs. Wouldn't it be wonderful if your fridge could tell what you're running out of and automatically reorder that product?
The web has been a great driver in Tesco's global expansion and there's no doubt that digital technology will play a major role in its future.
REDEFINE THE BRAND BEYOND 'BIG' AND EXPAND ONLINE
Mark Sinnock, Regional president, strategy and planning, Ogilvy Asia/Pacific, and a former marketing director at Asda
Clarke should focus on three areas: realigning the business around the brand; new models for new markets; and winning the digital future. This is a real opportunity to redefine Tesco. In the UK, Sainsbury's means 'quality' and Asda 'price', but Tesco means 'big'.
Redefining its cultural blueprint will shift Tesco from reactionary tactics into a consistent and differentiated strategy.
The operation in China and growth in emerging markets is fundamental to its future. It must 'go local', using knowledge and insights to drive strategy and execution. Digital retail is the next major growth channel in these markets. There are more women online in China than the US - by default, online retail is exploding. Tesco has this expertise, and it is one where its global rivals, Wal-Mart and Carrefour, lag behind.
PROVIDE ESSENTIAL SERVICES FOR COMMUNITIES
Dave Trott, Co-founder and creative director of ad agency CST The Gate
The middle classes buy their wine, petrol and insurance from Tesco. The working classes buy their food, clothes and everything else from Tesco. Having tied up what people 'want', maybe now it could look at what people 'need'.
Balancing the economy means essential services will probably be cut, in health, education and policing. If so, privatised security for entire streets could take some of the burden from stretched police resources that can't cope. Privatised medical care could take some of the burden from an NHS that can't cope. A way to access private education could take some of the burden from schools that can't cope.
Tesco could empower people to take more control of their lives. I wouldn't change the advertising, though. 'Every little helps' will be more appropriate than ever in this decade and the next.
REINVENT CLUBCARD FOR THE POST-DIGITAL WORLD
Tracey Follows, Partner and head of planning at VCCP, former marketer at Woolworths
Tesco must play to its strength: understanding its customers through data. Clubcard gave it a strategic advantage in the old world and a means to build empathy and offer additional value. It should now be reinvented for the post-digital world.
Two key trends taking us into this new world are data and mobile. Swathes of customer data now exist, and with mobile, Tesco will be able to build more detailed personal pictures of every customer - their needs, wants, preferences and moods.
A post-digital world is not just transactional information being delivered digitally via a mobile, it's our location, social graph and much of our everyday behaviour. Making sense of that will mean the difference between a value offering based on personalisation, and a valuable offering based on humanisation, which is what customers will really want.
BE SUSTAINABLE AND SHOW SOME LOVE
Jo Kenrick, Chief executive of the Prince of Wales' initiative on sustainability, Start, and former marketer at B&Q and Asda
Businesses increasingly recognise that sustainability is important to stakeholders, and that saving CO2 usually means saving costs. An innovator like Tesco should look broadly at security of resource and consumption.
Items we take for granted as cheap enough to throw away will become more expensive as the basic materials and the energy used to make them becomes costly and difficult to source reliably. Smart retailers can get ahead of the curve by offering loan and repair services to their customers.
Philip Clarke also needs to put some love into Tesco's communications. Yes, it is big and clever at manipulating me because it knows so much about me. It doesn't seem to like me, though, and I don't like Tesco very much, so I've stopped shopping there. Show me something to love and I might go back.
TAKE CLUBCARD AND ECOMMERCE GLOBAL
Simon Michaelides, Director of consulting, Kantar Retail, and a former marketer at PepsiCo UK and Procter & Gamble
Terry Leahy leaves Tesco in great shape. Nonetheless, Philip Clarke's first task must be to address antipathy to the brand. A strategy review also feels due - 'Every little helps' lacks the impact it once had. Shopper engagement needs to step up, while spin-offs such as Tesco's Gold Exchange sound more like 'Any idea will do'.
Clarke should roll out Clubcard, convenience stores and ecommerce to all markets. More stores are possible in Eastern Europe and Asia, while Tesco's approach would go down well in Canada and Australia. In the US, Fresh & Easy needs tweaking, but all it is really missing is scale. Internationally, dunnhumby has scope to be sold into more retailers. There are growth opportunities in the BRIC markets and a renewed Middle East remains untouched. The future is bright - and it is most likely Tesco.