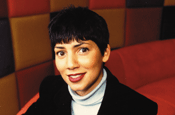 Mendonca, currently the business development director for Omnicom Media Group EMEA, is thought to be in final conversations with Colin Gottlieb, the chief executive of OMD Europe, over her exact remit before being confirmed in the role.
She will effectively replace Simon Francis, who has resigned to join Saatchi & Saatchi as chief executive EMEA. Francis is currently on gardening leave and it is unclear when he will join Saatchis.
The appointment will mark a significant promotion for Mendonca, who joined OMD Europe in 2001 as new business and marketing director from Capital Radio, where she was strategic marketing director.
Mendonca's promotion will follow a series of changes in OMD's European management structure. In addition to the departure of Francis, Barry Cupples, its chief executive for central and Eastern Europe, is departing to run the network in the Asia/Pacific region following the promotion of Mike Cooper to the role of PHD Worldwide chief executive.