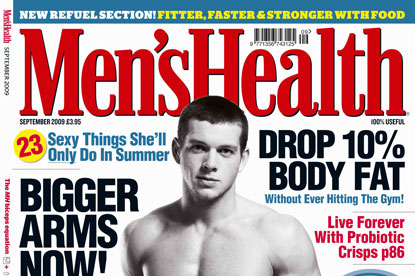 Figures from the Audit Bureau of Circulations for January to June showed that Men's Health increased its circulation by 2.1 per cent year on year to 250,247 while FHM, published by Bauer, saw its sales decline by 16.2 per cent to 235,027.

Sales in the men's sector as a whole fell by 4.7 per cent, with the weekly titles Nuts and Zoo hit hardest.

Nuts, published by IPC Media, lost 24.6 per cent of its circulation, which only reached 188,532, while Zoo fell by 31.2 per cent to 111,012.

IPC's Loaded, once the icon for the lads' mag sector, now sells 72,679 copies a month, a decline of 23.8 per cent year on year.

Titles at the quality end of the market suffered less, but sales of Condé Nast's GQ declined by 7.7 per cent to 120,019 and circulation of NatMag's Esquire was down by 9.3 per cent to 52,705.
The free weeky Shortlist boosted its average circulation by 6.1 per cent to 510,720, while the relaunched Sport, now backed by UTV Media, was down 2.5 per cent to 305,341.