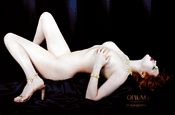 An EU report, drafted by the institution's Women's Rights Committee, was adopted by a large majority in the European Parliament today.
It pushes for education initiatives to be introduced that will "combat the structurally embedded stereotype images of women and men we find all around us."

The report argues that gender stereotypes are used in advertising to the "financial gain of big business" and that women have "suffered" by being "represented as objects."

It also calls on member states to monitor ad campaigns and to remove "stereotyped and degrading" images of women from advertising while introducing regulatory measures to "promote balanced and diverse portrayals of women by the media".

The report recommends especially close policing of the use of nudity and noticeably thin women in ad campaigns.

Report author Eva-Britt Svensson also highlighted digital media as being of particular concern, especially the portrayal of women in the majority of video games and their supporting advertising.