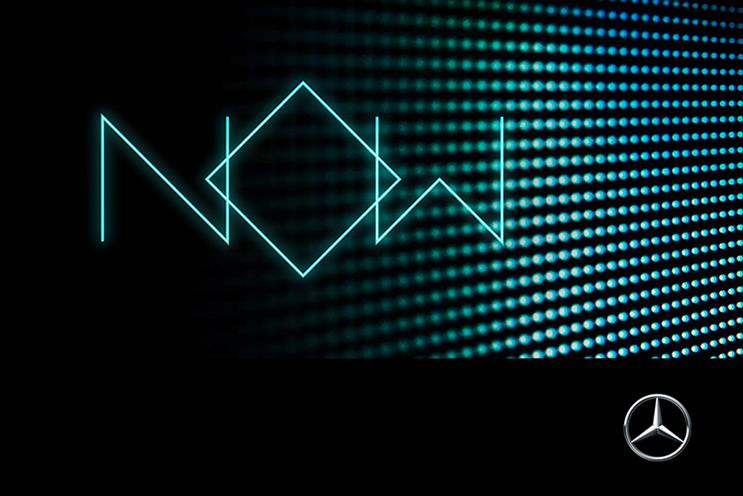 What are you doing right now? According to Mercedes-Benz, we are all experiencing now, but "we are all living it differently." Unless, of course, you are watching the world's first-ever, live, 12-hour commercial from Mercedes-Benz on YouTube or Facebook Live. Then you are witnessing neon lights that spell "NOW," a global map superimposed with the word "#SELFIE" and a woman lying in the fetal position underneath a spotlight along with 15,436 people. Oh wait, now it's 15,442. And now, 15,431. Such is the spirit of living in the now.
"When people talk about electric cars, a lot of people will talk about tomorrow or something that's coming," said Damir Maric, head of campaign development and creation for Mercedes-Benz Cars. "We wanted to stress the importance of now."
The "experiment," as Maric calls it, was created in conjunction with Vice Media's Berlin-based VIRTUE creative services agency and British choreographer and artist Darren Johnston. Unlike Nick Offerman's celebrated longform spot for Lagavulin whiskey, this ad hocks the Mercedes-Benz plug-in hybrid series as much as it does a love for the present. It's also more welcoming than past spots for the luxury car company. A narrator says, "Now isn't exclusive, reserved for some and not others," proving that everyone is invited to this party.
In fact, inclusivity was a big factor in deciding the ad's length. "I don't think it's important to produce a 12-hour commercial," Maric clarified. What is important is picking a timeframe that allows everyone in the world to view it in their "now"—because after 4 p.m. Eastern Time, the woman lying on the floor will go home, probably turning off the neon lights on her way out.
For procrastinators out there, a shortened version will be available at a later date.
UPDATE: We have learned that Arby's smoked a brisket in a 13-hour commercial in 2014, so Mercedes-Benz is not the first. We have since updated the headline to reflect this. Now, if you'll excuse us; we've got some meat-cooking to watch.