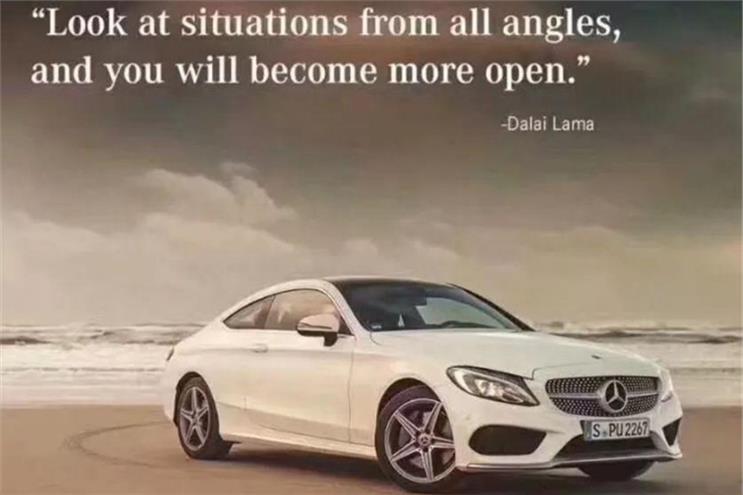 Mercedes Benz has apologised to Chinese consumers for a motivational Instagram post quoting exiled Tibetan spiritual leader Dalai Lama—a political agitator in China's eyes.
In a statement in Chinese on its official Weibo account, the German luxury car brand said it was "concerned about a very wrongful message from our company on international social media".
The "wrongful" quote was one popularly attributed to the Dalai Lama beseeching people to "look at situations from all angles, and you will become more open", which was deleted from Instagram at the first onset of anger.
"We are very aware of the harm caused by this incident to the Chinese people," read the apology. "Taking this as a guide, we will immediately take practical actions to deepen our understanding of Chinese culture and values, including our overseas colleagues, and to regulate our actions so as to prevent such incidents from happening again."
The apology drew more criticism from Chinese netizens for its vague reference to the unaccessible Instagram post, and for the fact that the brand did not apologise on Instagram itself. Furthermore, the brand disabled comments on the Weibo apology.
Mercedes-Benz is the latest foreign brand, after Marriott, Qantas, Delta, and Zara, to take a pummeling on social media for acts that have touched politically-sensitive nerves, even if this time, the irony of a post encouraging open-mindedness being pulled stands out.
"Brands are stuck in the 90s as far as content is concerned," said Ken Cheung, GM of Shanghai at Curiosity China. "There's only a handful that really appreciate the globalisation of content brought by digital."
The consequence is content being produced with "almost no consideration of the global impact of it", said Cheung.
It's really "not that hard" for brands to be politically sensitive, added Shann Biglione, chief strategy officer for business transformation at Publicis Media Greater China. "I'd even go as far to say it's unprofessional not to be. International brands would consider implications [of their marketing] in other major nations, why not China?"
"It's not like there are a gazillion points to know about, and if in doubt, just check with a China team.
Take the Dalai Lama, he regularly makes the news when any state receives him. This is not a hidden secret."
Even when such social media materials are published outside of China, they must be considered and weighted, he stressed. Brands don't have to censor themselves, he said, but need to consider the full weight of even a seemingly trite Instagram post in a global context.
On the flipside, assuming that the car brand wants to appeal to human rights supporters, for illustration's sake, it has to make a stand by choosing a position and accepting that it will alienate the other market, said Cheung, giving the example of luxury brands now trying to win over anti-fur protesters after realising they may be more valuable than incumbent luxury consumers.
A version of this article was first published by Campaign Asia-Pacific