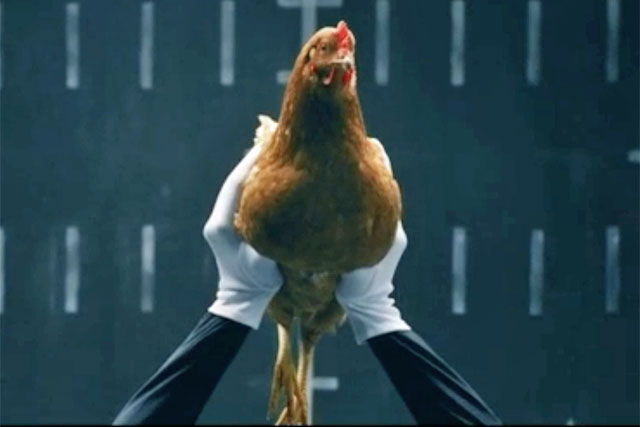 Auto Express, the car magazine published by Dennis Publishing, held an online vote where more than 3,000 people selected their favourite car ad of the past 12 months.
The "chicken" ad, created by the German agency Jung von Matt/Neckar, received a decisive 51 per cent of the online vote for the award, which was announced at last night's Auto Express New Car Awards.
"Chicken" shows a demonstration of chickens' bodies being moved around while their heads remain still, to reflect the "magic body control" functionality of Mercedes V8 cars.
The V8 model uses a stereo multi-purpose camera system to detect unevenness in the car's suspension and makes adjustments to rebalance it.
Steve Fowler, the editor-in-chief of Auto Express, said: "Mercedes' intelligent drive ad has been a huge favourite among the Auto Express team and it's clear that our readers agree.
"It's able to entertain and get a message across in an innovative and creative way. And most importantly for any ad, it's hugely memorable – a brilliant advertisement."
Gary Savage, the chief executive of Mercedes-Benz UK, said the ad was "a brilliantly simple way to explain complex advanced engineering. We used professionally handled birds, which were very well cared for. In fact they were so relaxed on set, I'm happy to report three eggs were laid."
In second place in the online poll was Jaguar's "rendezvous" ad featuring British actors Sir Ben Kingsley, Tom Hiddleston and Mark Strong. It was created by Jaguar's in-house agency Spark44.
In the spot – whose follow-up Jaguar ad was today banned for encouraging irresponsible driving – the actors talk about why Brits are always cast as villains in films.
Volkswagen's "woofwagen" ad, which features dogs leaning out of the windows of Volkswagen cars, came in third place with 16 per cent of the vote. Adam & Eve/DDB made the spot.