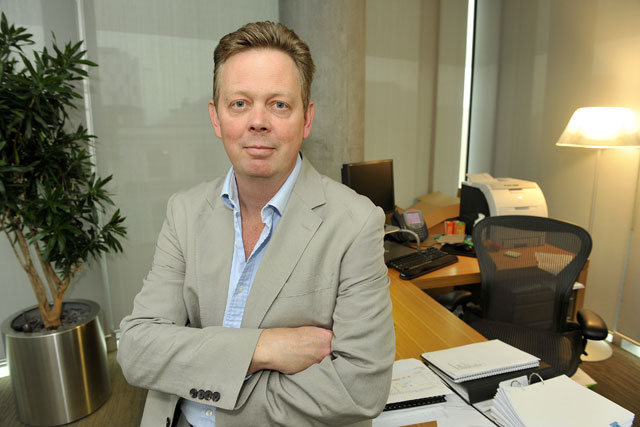 IPC Media's Charlie Meredith has valiantly crept into the office to meet Campaign - despite an attack of the vomiting virus. A medal has to go to any man who will talk shop for an hour while surpressing waves of nausea.
IPC Advertising's managing director is keen to expand on the publisher's recent restructure of its advertising teams into one trading unit under Kate Mackenzie, and last week's unveiling of Creative Media, the new bespoke service for IPC Advertising's commercial partners. But dig deeper and there is another layer to the trifle.
The restructure of the trading teams has come just weeks after IPC finished offloading a raft of specialist titles - such gems as Cage & Aviary Birds and Stamp Magazine - to independent publishers.
Meredith, who led the process, explains that the move was designed to streamline IPC's offerings and enable investment in its core commercial audiences of mass-market women, upmarket women and young men, which are broadly represented by IPC's three divisions: IPC Connect, IPC Southbank and IPC Inspire.
Meredith reveals that the new centralised trading hub, which allows advertisers a single point of access across all 60 IPC brands, was born out of demand from clients. "We heard from agencies that when we were in our divisions, we weren't as easy to deal with as we should be."
Integral to the restructure is the launch of Creative Media, a re-branding of IPC's separate creative solutions teams, which have also been brought together under one banner as part of this centralisation strategy.
"One of the messages I heard consistently from the market was that they also wanted increased collaboration, creativity and content," Meredith explains.
The service will benefit from a recent partnership between IPC and TV production company Shed Media (of Supernanny fame), which will allow the publisher to produce brand-led TV content for advertisers.
Creative Media will also offer new solutions - such as bespoke online video franchises created by the editorial teams (think the beauty editors of Marie Claire talking through make-up tips) - that could be used by brands for sponsorship or product placement.
Meredith suddenly looks less nauseous. "One of my key aims is to harness all of IPC's editorial, marketing, publishing and advertising resources in order to deliver 360-degree, best-in-class solutions for the market."
Adding to the centralisation of the business is what Meredith describes as a "strengthening" of IPC's strategic business development. This initiative is led by Ian Tournes, formerly of MediaCom and Starcom, who heads a team of ex-media agency heads such as the former MediaCom director, Fiona Walford. This team has the aim of penetrating agencies early in the planning cycle, to foster ideas and encourage business growth in untapped areas.
Meredith has taken an unconventional route to becoming head of advertising at the UK's largest publisher. Instead of working his way up through the sales team, he started his career as a journalist, which he did for ten years. Plus, he only launched that career at the age of 28, following eight years studying for a PhD at Cambridge.
Swapping lonely academic life in the hope of earning more green, Meredith moved to London and almost immediately started working for IPC. The rest is history.
Since 1992, he has held 11 roles at the Southbank-based publisher, swapping the editorial world for the commercial side in 2000, and working his way up to become the managing director of IPC's TV weekly group and the managing director of IPC's central operations. If there ever was a Mr IPC, Meredith is arguably it.
Steve Goodman, the managing director of print at Group M, identifies this heritage as "invaluable". He says: "I think he's been given a bigger role at IPC than there has been in the past, which will hopefully provide him with the ability to pull things together and harness the enormous power that IPC has." Goodman describes Meredith as "level-headed, full of ideas and a great guy to work with".
Meredith seems the ideal IPC ambassador. Unlike an in-your-face PR, he will casually drop in the fact that "two-thirds of women and 42 per cent of men engage with IPC brands on some platform". He references recent headlines about IPC having the most nominations (15) for the Association of Online Publisher Awards, as well as being highly rated in the IPA Online Media Owner Survey, with inoffensive pride.
Again, he attributes part of this success to the centralisation of IPC's digital trading team at the start of last year. "We are making changes and they are working really well," he says.
Feeding into IPC's digital success is the guidance from parent company Time Inc. "They are further ahead than we are," Meredith admits. "We're looking to draw on Time Inc's learnings."
Sylvia Auton, the chief executive of IPC, returned to her old job in January after two years as the executive vice-president of Time Inc. "She brings all the value from the States back to us," Meredith says.
But he is visibly testy when Campaign asks why Auton has returned. Isn't it rather unusual to leave a job and then come back to it again?
"I don't think that's for me to answer, unfortunately," he adds.
THE LOWDOWN
Age: 48
Lives: Richmond
Family: Joseph (14), Rory (11) and wife Denise Meredith, a novelist who
writes Victorian forensic fiction
Favourite TV: Flight of the Conchords and The Thick of It
Favourite books: History books on dictators such as Stalin, Mao and
Hitler. It's probably not a good sign
Hobbies: Clay shooting and skiing