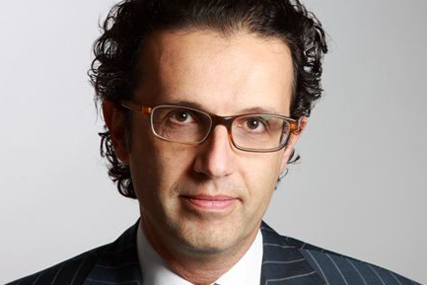 The 46-year-old former adman, who took the reins at Channel 4 in May, has ruled out any immediate tie-up between the two broadcasters.
Abraham said: "A merger with Five, or anyone else, is certainly not on my immediate agenda for the future of Channel 4.
"There are many other things I want to look at – we need to invest in commercial innovation. It's a challenging but exciting time."
The former boss of UKTV, the satellite and digital joint venture between BBC Worldwide and Virgin, was talking after his first public speech as C4 chief.
He added: "I'm delighted with the UKTV deal, obviously I know both businesses well and feel like they are perfect partners."
Abraham's comments will be sure to disappoint Five's owner RTL, following speculation the two broadcasters had already held cursory meetings, involving both Abraham and Channel 4 chairman Lord Burns.
Five's future, led by chief executive Dawn Airey, is far from certain, with RTL still actively looking for a buyer.
At just 13-years-old, the terrestrial broadcaster has had its value slashed by more than half after RTL reported losses of £37m for the recession hit 2009.
In January 2009, regulator Ofcom recommended that C4 merge with either Five or BBC Worldwide to provide an alternative national public sector broadcaster.
The path for any potential deal was further encouraged in Lord Carter's Digital Britain report, and RTL chief executive, Gerhard Zeiler, has made it clear he sees the benefits of such a merger.
It had been unclear, until now, if Channel 4's new management would be open to a deal.
Abraham, speaking publicly at the annual ISBA lunch, said: "Both myself and the new Channel 4 chairman Lord Burns are clear that in these straitened times Channel 4 needs to focus on helping itself.
"We are not scanning the horizon for the cavalry."
Keen to end up in bed together
The chief executive also told ISBA's advertising audience that he believes "the consolidation of TV sales is inevitable", before highlighting the 10 year partnership C4 landed with UKTV this week.
Following the move, Channel 4 Sales will account for almost a third of the British TV ad market, and Abraham said it will make the sales house "the 'go to' place for advertising around the very best of public service content from Channel 4 and the BBC".
Prior to UKTV, Abraham founded ad agency St Luke's, and in his new role he said the crucial role advertising plays in funding content is often overlooked.
Citing Woody Allen's line – "They call it show business, not show show" – Abraham called for a "genuine partnership, as opposed to a simplistic buyer and seller relationship" with advertisers.
He urged advertisers to explore new ways of doing business with Channel 4, noting: "It seems to me incredible that in a TV/media world that is changing so fast we, by and large, still use the metrics of a 1980s regional monopoly as the only way we trade."
Describing his feelings for the room of more than 230 marketers, the CEO admitted it was a bit like one of the characters in E4's sitcom 'The Inbetweeners', "slightly nervous, shy, but keen to end up in bed together".
Looking ahead, he said Channel 4 would continue to maintain its quality and distinctive programming, while seeking to develop "a much more advanced understanding" of its audiences.
"We have hardly scratched the surface when it comes to understanding and managing these relationships for mutual benefit," he said.
To sum up Channel 4's offering, Abraham turned to the long-running Heineken campaign, and one of the most famous straplines in the business "We're reaching the audiences that other TV channels cannot reach," he said.