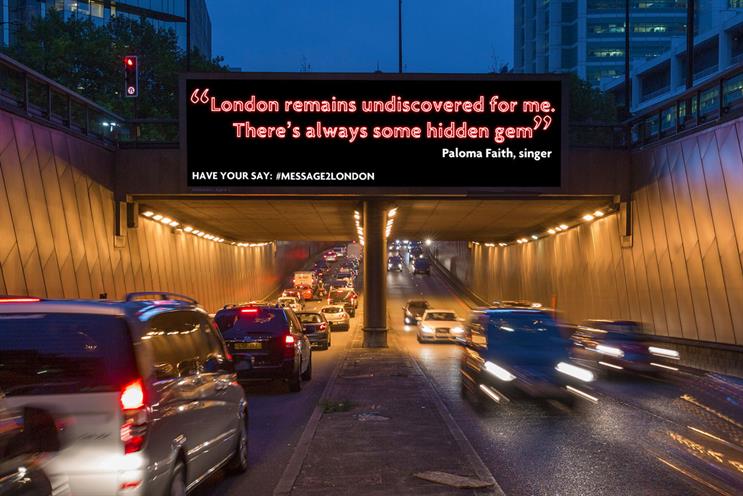 Andy Murray, Idris Elba and Paloma Faith were among the celebrities who sent personal messages to Londoners in a digital outdoor campaign by Outdoor Plus, doubling spontaneous awareness levels.
Each message composed for the "#Message2London" campaign used a maximum of 10 words. No fees were paid to the celebrities.
Key locations included the Euston Road underpass, Chiswick round­about and A40 Westway.
The campaign delivered a pure spontaneous awareness score of 21.4 per cent, that increased to 38 per cent for a combined "Yes / Maybe" aware. Two weeks post-campaign, spontaneous awareness was still above the norm at 28 per cent.
The research was carried out by Dipsticks, a market research agency, which surveyed 1,000 people. A spontaneous awareness score for a 'typical' medium weight broadcast out-of-home campaign would be between 10 and 12 per cent.
The celebrities' messages were used as a teaser for the campaign, which launched in June and encouraged people to use the hashtag #message2london on Twitter; it was used 1,800 times, 60 per cent of which were on personal accounts rather than business accounts.
The idea was to create an alternative "tweet on the street" to demonstrate that digital Out of Home is both effective and a must-have for advertisers looking to drive awareness and brand fame.
Idris Elba, Vauxhall
Bono, Vauxhall
Claudine Collins, High Holborn
Andy Murray, Vauxhall
Richard E. Grant, East Cross Route
Tracey Emin, the A1 Archway