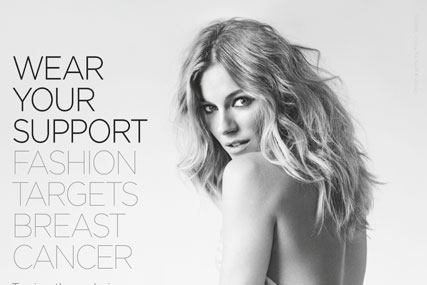 The agency won the brief after a competitive pitch handled by the AAR. It will be responsible for the charity's digital, outdoor, press and ambient activity, which will focus initially on Breast Cancer Awareness month in October.
Breakthrough Breast Cancer's most recent activity, created by CMW, used celebrities including Kylie Minogue, Claudia Schiffer and Sienna Miller to support a fundraising initiative, Fashion Targets Breast Cancer 2010.
The campaign, which featured the strapline "Wear your support", was shot by the photographer Mario Testino.
Deanne Gardner, the head of brand and communications at Breakthrough Breast Cancer, said: "Meteorite quickly got to the heart of the communications issue, aligning itself with our thinking, our culture and our tone of voice. What is more, we felt that it produced some outstanding creative that really will 'break through'."
Debbie Smith, the managing director of Meteorite, said: "This is a charity that's actively fighting on a number of fronts with some brave, pioneering and effective initiatives to find the ultimate breakthrough to breast cancer, and we feel immensely proud and privileged to be a part of that."
The charity works to remove the fear of breast cancer through research, campaigning and education.