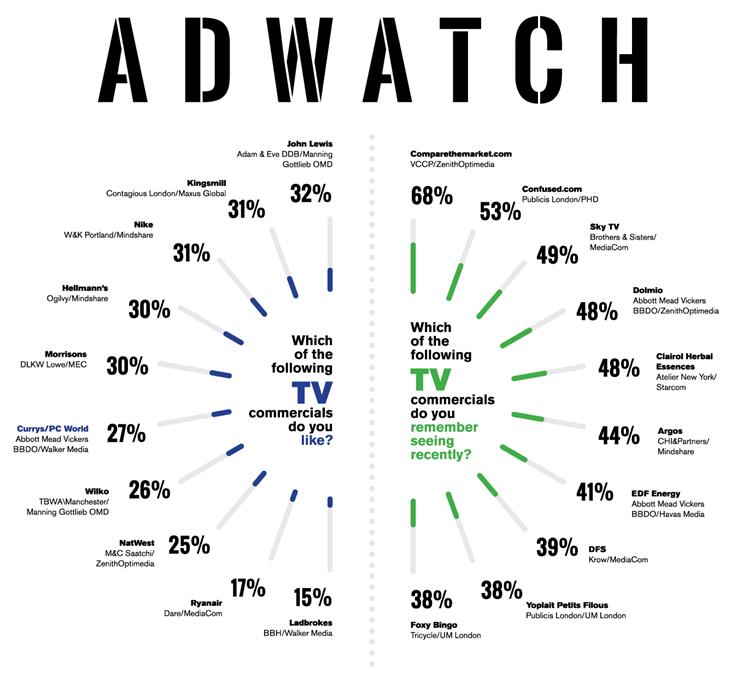 Well, aren't I a lucky boy? It's always nice to be asked to write a few words of review on ads of the moment. But I've never, until now, been given a selection that includes my actual favourite ad of the year so far - in this case, for Currys/PC World.
It's one of three spots, a campaign of meticulously written, well-acted and beautifully directed 30-second jewels of your finest, hand-crafted, English TV ads.
They all feature brilliantly pathetic reasons to get a new gogglebox, such as for "all those penguin documentaries coming up". Like all good comedy, they use, as the central premise, a situation we all instantly recognise from childhood, where we learn to get what we want by disguising it as a selfless act of devotion or generosity.
Transposing this tortuous, childlike reasoning into the world of the British man-child who just wants a big telly to watch the World Cup is a wonderful idea.
It's wonderful not just because it's entertaining comedy – that's just the Trojan horse that gets it noticed and remembered. The really brilliant thing about this campaign is that it features the product in a completely different way from how everyone (including, historically, this advertiser) usually does it, their ubiquity thus rendering them all completely ineffective.
So, rather than showing us the same rectangular screen with a price next to it, this campaign cleverly stimulates that initial desire for a new telly. I don't think I've ever heard a Sony 55-inch Ultra HD TV described with such wistful longing.
What I especially love about this campaign is that it shows what can be done with a little intelligence, craft and care in the world of retail advertising.
Having dispensed with all the usual "mandatories" that one would expect, we are left with a simple, engaging, pared-down message that most will find irresistible.
Suddenly Currys/PC World is a brand that has stopped talking at me and is now having a friendly, knowing conversation with me… and I like it.
Good agencies will have writers who can produce this kind of work, but the lucky few have clients with the wisdom and courage to make it happen.
An advertiser that has the bravery not to even show the product in question has, I sincerely hope, seen an increase in the flow of big cardboard boxes being shipped from its warehouse.