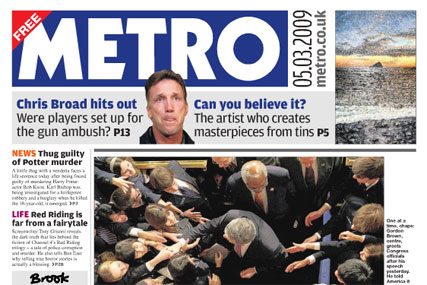 The drop in advertising follows single digit declines between October and December last year and comes as the newspaper celebrates its 10th anniversary. Associated would not specify the exact percentages for either quarters.
Auckland said: "The paper is still profitable, but it has suffered a double-digit decline in ad revenues in the first quarter. This will continue for the next six months."
He still believed free newspapers were likely to cope better in comparison to their paid-for rivals in the tough economic conditions.
Metro is the latest newspaper to reveal dismal advertising revenue figures for the first three months of the year.
Auckland argued that Metro's smaller cost base would be a crucial factor in offsetting the difficult economic environment, as well its ability to outsource some of its operations.
In 1999, when Metro launched, it distributed 85,000 copies. The paper has now expanded into a number of other cities, including Manchester and Bristol, and distributes 1.3million copies a day.
Auckland was speaking at an event at Associated's head office in Kensington, London, to mark the 10th anniversary.