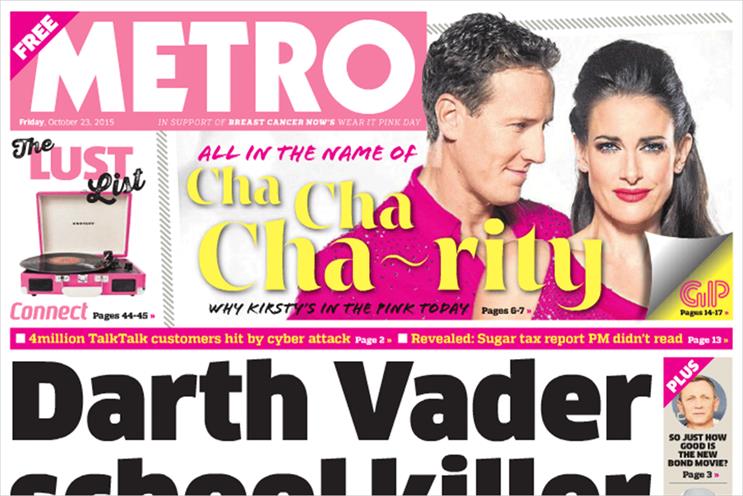 The free commuter newspaper featured a bespoke pink masthead and a pink design throughout today's edition, in support of the breast cancer charity's 'Wear it Pink' campaign.
Over 40 brands, including Barclays, Fiat, Vodafone and Virgin Media produced bespoke ads in today's edition, with others adding 'Wear it Pink' badges to their ads.
The newspaper is also donating 10 per cent of its net display ad revenue from today's edition to Breast Cancer Now, as well as encouraging text donations from readers.
The last time Metro launched a one-off redesign for a single cause was last year, when it launched an anti-homophobia edition for Stonewall's Rainbow Laces campaign, with Paddy Power.
Last night, Rainbow Laces won two golds at the 2015 Media Week Awards, for the Media Idea – Small and Small Collaboration categories. M2M handled the media planning and buying.
Grant Woodthorpe, the trading director at Metro, said: "The entire Metro team is right behind this cause and we know it's one that's close to our readers' hearts as well.
"It's incredible to see so many brands willing to get on board and also show their support too.
"We showed with Rainbow Laces the impact a single, dedicated edition of Metro can make, with 91 per cent of our readers agreeing that seeing brands working together like this makes the message so much more powerful."