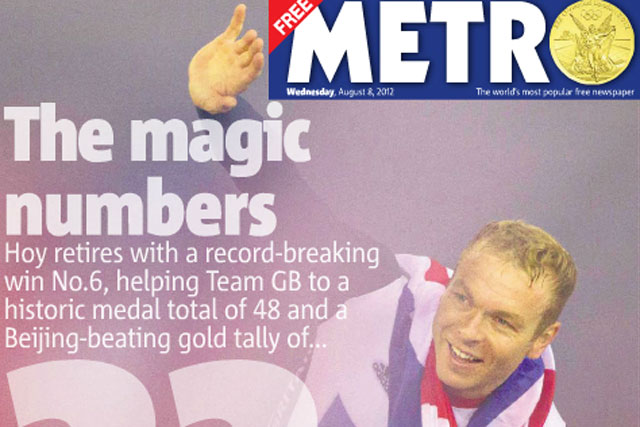 Free title Metro, which for the first time is being published at weekends during the Olympics, has benefited from its £2m cover-wrap deal with adidas, which is running everyday of the Olympics.
Metro, which is published nationally, has also carried big commercial deals with brands such as Olympic sponsor BT and non-Olympic sponsors such as Aviva.
In all, Metro has taken in ad money from 24 official Olympic advertisers, and a total of 50 advertisers targeting the Olympics.
David Vokes, who heads up Metro's London's 2012 commercial operations, said: "The interesting things about the weekends is that people have been picking up the paper later in the day and not just the morning."
Metro has distributed around 325,000 copies at the weekend in London, as it looks to lure in tourists and domestic people visiting the Olympics.
Separately, unofficial figures suggest that national newspapers have been performing well during the Olympics.
In the two Sundays since the start of the Olympics (Sunday July 29 and Sunday August 5), The Sunday Times has added around 71,000 copies to its pre-Olympic average circulation.
The Sunday Telegraph has added around 42,000 in the same period to its pre-Olympic figure.
Both titles have published dedicated Olympic supplements along with putting significant editorial resources behind the Olympics.
The Observer and the Independent on Sunday have added 32,000 and 5,000 to their average circulations.
The Mail on Sunday has added 49,000 and Sunday Express 14,000.
The figures would suggest the Sunday Mirror is the big winner across the red-top market, up 57,000, likely aided by a TV campaign. The Sun on Sunday has fallen 5,000 copies.


Follow @johnreynolds10