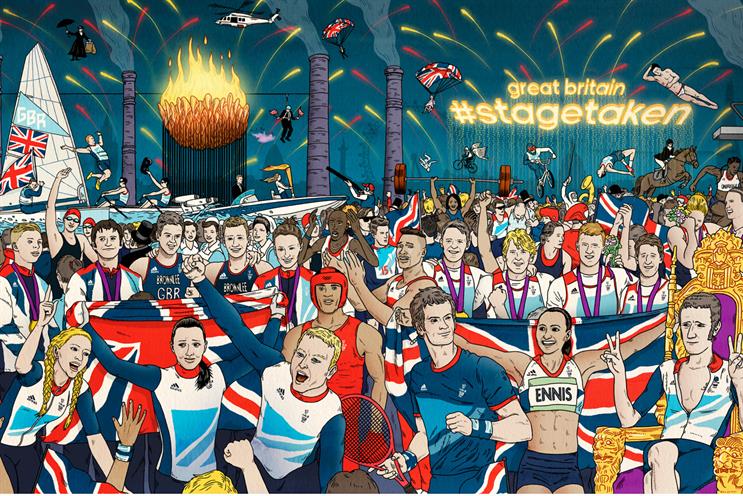 11 March 2011…
Linda Grant, the commercial development director at Associated Newspapers, is promoted to the position of managing director at the group's free commuter newspaper, Metro, succeeding Steve Auckland, who is promoted to managing director of Northcliffe Media. Grant pledges she'll take an already hot advertising sales operation and make it even hotter.
26 July 2012…
The team's prowess is underlined as Metro proves itself to be the paper most likely to tie advertisers in to significant Olympics-related deals – such as the one unveiled with Adidas that agrees to coverwrap the paper for 17 days during the Games (pictured).
27 July 2012…
So it's slightly surprising that Metro chooses to announce a commercial restructure. Grant Woodthorpe shifts from the post of sales director to become investment director and Brigitte Stanley joins as its head of agencies, reporting to an as-yet-unnamed appointee to the new role of commercial director. Two weeks later, this supremo is unveiled as Matt Teeman, the managing director, advertising, at Immediate Media.
22 November 2012…
But, clearly, Teeman (pictured) doesn't have much to fix, because the Metro team certainly ain't broke. As, indeed, is recognised at the Campaign Media Awards, where Metro brings home the bacon as Print Sales Team of the Year.
28 November 2012…
So there are some raised eyebrows when Teeman announces a restructure of the Metro sales team into agency-centric hubs with print, digital and "solutions" executives. Teeman reassures media agencies about the changes, which mark his first strategic undertaking. The initiative involves no redundancies, but there are rumours that some staffers are rather unhappy at the changes.
Fast forward…

1 April 2013 But the restructure is a roaring success, with Metro pulling in unprecedented revenues. So there's more than a little surprise when Teeman is moved sideways to accommodate a strategic digital integration director, charged with integrating digitally strategic revenues in an on-demand-trading-desk-environment-sort-of-thingy. Enter David Pemsel, fresh from a similar task at Guardian News Media.