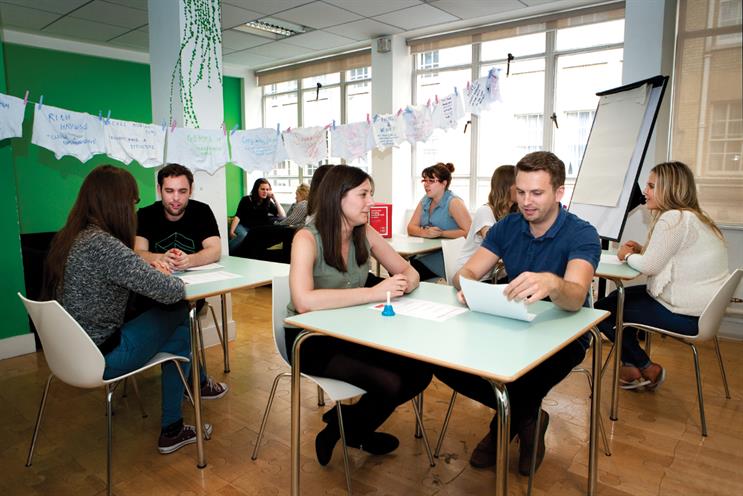 Visitors to Manning Gottlieb OMD recently may have noted something subtly different about the ambience. Actually, if they'd arrived at the start or the end of the working day, they would have heard something rather less subtle; something that you don't often hear at the agency (or any other agency, come to that) – a bell ringing.
This formalised start and end to the day's proceedings was the loudest and most obvious element of MG OMD's Work Smarter Not Harder week during 10-14 June – but there were plenty of others.
There was a screen showing the amount of internal e-mails sent the previous day. The notion is that a good number of internal e-mails are unnecessary and thus unproductive – and a better way to communicate is to walk across the office floor and have a chat with someone. To that end, there's now a scheme to make it clearer who sits where and what teams they are in (the agency has been growing rapidly, so it's not always obvious, especially to younger employees).
There were also initiatives to improve the productivity of meetings, plus a daily competition to incentivise the achievement of important goals, such as clearing certain sorts of admin backlog.
The WSNH team is led by MG OMD's head of operations, Katie Eyton, and it works in partnership with the motivational consultancy Lucent. Eyton explains: "The key aim is to make the agency more efficient and less stressed, so that we can spend more time on the work that really adds value to our clients – great insights, planning and optimisation."
She adds: "The aim was to kick-start cultural change and, by doing it for a week, to get people to change their habits. The WSNH team also acts to ensure that we keep the momentum going after the week has ended."
The initiative, arguably, is rather timely. In September 2012, the industry was captivated briefly (though not in a good way) by a scandalous episode know as Shicklegate, when a resignation e-mail from a middle manager at MEC went viral. The e-mail contained allegations that his working life had become intolerably stressful.
So, are there lessons here for the rest of the industry? Liz Nottingham, the human resources director at Starcom MediaVest Group, is also the chair of the IPA talent strategy group. She won't be drawn on whether agencies can and should do more in this area – or, indeed, whether the IPA has a duty to chivvy its members along. But she states: "MG OMD's initiative is an interesting one. We all have a duty of care towards ouremployees and every agency manages things differently."
Claire Barnes, a partner at Lucent, used to work at a media agency – so she knows how challenging the environment can be. She reckons the sector tends to be good at addressing evolutionary issues, largely because it has resisted the sort of hierarchies, bureaucracies and formalised work processes that dominate some work cultures.
Agencies have a clear sense of their own values, which is also a help. She concludes: "The ad industry has faced a lot of change – and it's an amazingly adaptable industry run by some fantastic people. We're not about filling offices with consultants – what we do is help people find ways to meet the challenges. Sometimes they need that help."