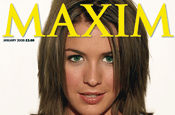 He has been replaced by Ben Raworth, former new product development editor at Dennis Publishing who oversaw the launches of digital titles Monkey, iGIZMO and iMOTOR.

Maxim was hit by a steep circulation declines in the last set of ABC figures, with a 59.6 per cent fall year on year and 44.5 per cent period on period to 43,542 copies.

In May, Donlevy labelled trade journalists "wankers" following a Campaign article that revealed sales of the magazine had hit an all-time low.

Simon Clark, Maxim publishing director, later distanced himself from Donlevy's comments.

Raworth takes the position of editorial director of Maxim and will report into Bruce Sandell, managing director of Dennis's consumer division.

Bruce Sandell said: "I am delighted to be announcing Ben's appointment.

"Ben and I have been working together on the launches of iMOTOR, iGIZMO and Monkey with huge success.

"Ben comes to Maxim with fantastic experience, understanding and enthusiasm for men's magazines, plus masses of innovation - as has been witnessed by his success on our recent launches.

Donlevy was appointed editor of Maxim in September 2007. Prior to that he was deputy editor at Men's Fitness.

Raworth was also formerly deputy editor of IPC's Loaded, editor of Bizarre and deputy editor of Jack.