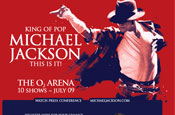 The ad appeared just before the results of the top-rated ITV show, and showed Jackson greeted by screaming fans.

The controversial pop star was also featured doing his trademark Moonwalk dance.

Tickets for the tour go on sale on 13 March, and more than a million people have already registered to buy tickets.