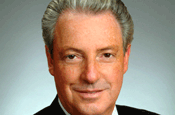 The warning came as IPG reported a third quarter revenue growth of 11.5 per cent and organic revenue growth of 7.6 per cent.

Operating margin grew to 6.7 per cent from 3.3 per cent for the same period last year.

However, IPG's share price continues to languish, standing at $4.10 at the close of trading yesterday.

Roth praised what he claimed was a "very strong performance" by the group, whose operating companies include McCann Erickson, Draftfcb, Lowe Worldwide and Universal McCann.

But he said action taken by the group to significantly improve its financial performance could be hit as marketers re-assessed their spending plans during the coming months.

He said: "While we believe that, with our strong performance year to date we remain positioned to achieve our financial objectives for 2008, the impact of an increasingly unsettled and volatile business environment on our sector is not yet clear and creates a risk to meeting our stated goals."

The figures show that IPG's third quarter revenue was $1.74 billion compared to $1.56 billion in the corresponding period last year.

Operating income in the third quarter was $116.3 million compared to $51.1 million in 2007.