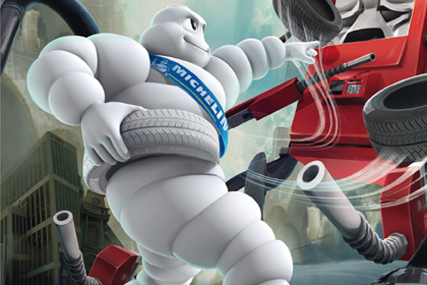 The new advertising approach has been created by TBWA, with media planning and buying handled by Mediaedge:cia, and launches on Monday (15 March).
Spanning TV, press and outdoor, the activity carries the new strapline 'The right tyre changes everything' and shows the Michelin Man in an animated world.

The character is shown trying to achieve greater fuel efficiency for motorists and attempts to illustrate the 'competitive advantages' of the tyre brand.
There will also be a viral movie showing motorists being attacked by "evil" petrol pumps, and an interactive on-line game where the Michelin Man battles against the objects.
To support the campaign, there will be a dedicated mircosite and an on-line fuel calculator, accompanied by fuel-saving tips.
The campaign is currently live in the US and the tyre brand is planning the role out the activity in other markets.
Peter Snelling, head of communications at Michelin UK, said: "We are looking forward to the UK launch of the new campaign, which marks quite a change in direction in terms of previous campaigns.

"Michelin has decided to launch an unconventional global campaign to explain to consumers the benefits of using its tyres."