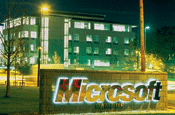 Microsoft said Multimap will be run as a wholly owned subsidiary of Microsoft as part of the Virtual Earth and Search teams in the online services group. Microsoft already offers 3D maps, birds eye views, directions and real time traffic, while its Virtual Earth service can be used by businesses to provide location information to their customers.
Multimap, launched in 1996, receives more than 10 million unique users and delivers more than 190 million page views per month. It also provides mapping, proximity searching, aerial images with map overlay, local information, and weather services to businesses. Customers include Asda, Orange, Vodafone and M&S.
Ad formats on its mapping pages can be targeted by IP address and geographical location, ranging from country and city-specific worldwide, to postcode and street-level precision in the UK.
Sharon Baylay, general manager of Microsoft's online services group, said: "This acquisition will play a significant role in the future growth of our search business and presents a huge opportunity to expand out platform business beyond the UK and globally."