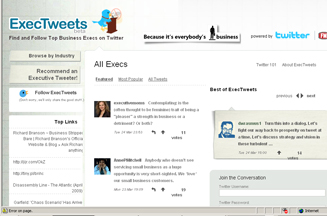 ExecTweets www.exectweets.com is a commercial venture, which aims to 'aggregate the tweets of top business execs and empower the community to surface the most insightful, business-related tweets.'
Business users already signed up include Adam Brown, director of digital communications for Coca-Cola and Richard Branson of Virgin. They will have to limit their business insight into 140 characters.
The site has been outsourced to digital agency Federated Media which is managing the project. The agency will also monitor the content of the site and will also removed any tweets it deems to be 'offensive or inappropriate'.
Biz Stone, co-founder of Twitter, writes on his blog that he is 'contacted regularly by brands interested in sponsoring innovative experiences based on topics of interest'. It is likely to be the first of many such deals on Twitter.
Online analysts have already suggested that Twitter could drive revenues by giving users the opportunity to pay to appear in the 'suggested followers' box.