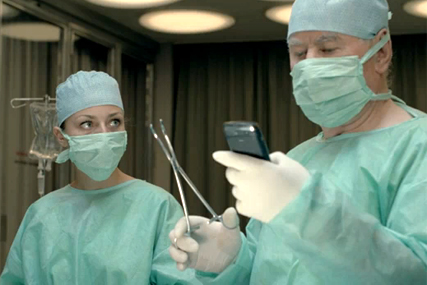 Eight global ads, created by Crispin Porter + Bogusky, will launch across Europe from tomorrow and air in the US on 25 October.
The humorous ads aim to 'break through the clutter' in the smartphone market by featuring awkward moments that people find themselves in while immersed in their phones.
Aiming to resonate with consumers, the ads see people walk into each other as they look at their phone, while one man is seen sitting on another man's lap by accident at the train station.
Microsoft's corporate vice president of mobile communications marketing group Todd Peters said: "As a society we're spending more time heads-down with our phones than we are interacting with the people we're sitting right in front of. When people see the ads for the first time, it's amazing how much self-recognition there is — that sense of 'I have totally done that'."
He added: "One of the core principles that guided us was that we wanted to start a conversation about how we could all benefit from a change in behaviour and a different kind of phone experience."
In the US, the ads will run in between shows such as "Hawaii Five-0," "Bones" and "Saturday Night Live," as well as late-night talk shows.
The eight ads will be followed up with six 30-second TV spots about the specific experiences that Windows Phone 7 enables, such as use photos, People Hub, Xbox LIVE and Bing.
Microsoft will also use social media across Facebook, Twitter, YouTube and MySpace where people can engage in dialogue with the company and tell them their thoughts.
Peters commented: "Social media's important, but television advertising is how smartphone brands are typically built."
The phone system has been designed to help people get information faster and easier. With the built-in camera button users can take a photo even when their phone is locked. One more click and users can send to friends or post to Facebook.
Peters said: "Capturing moments of bad cell phone behavior provided a perfect way to drive awareness of the benefits of the phone in a way that most people can relate to."
Earlier today, Microsoft chief executive Steve Balmer unveiled seven new handsets that will use the revamped Microsoft mobile system from providers including At&T, Samsung and HTC.
Read more on The Wall
Apple fanboy Stephen Fry says nice things about Windows Phone 7