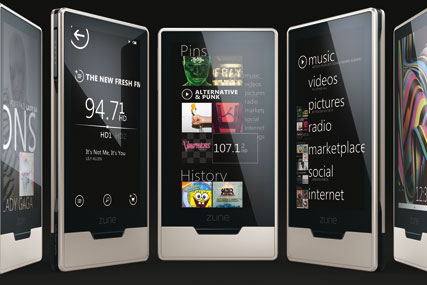 The music streaming service, which has been available in the US since 2008, will be available in the UK and across Europe for £8.99 a month.
Zune will offer unlimited downloads and streaming access to its music catalogue, including content from major music labels such as Universal Music Group, Sony Music Entertainment, EMI Music and Warner Music Group, as well as thousands of independent labels.
It promises to give users immediate access to recently played content and create playlists based on their personal music collections. The service will be available on any device that supports MP3s, including Microsoft's own Windows-based PCs, Windows Phone 7 OS and Xbox Live.
Users will also be able to purchase films to download or rent.
Microsoft launched the first generation of the Zune player in the US in 2006, selling around 1.2 million in the first year. The player aimed to be an "iPod killer" but failed to dent Apple's market share.
The second generation was launched in 2007 in a bid to become number-two to Apple by the end of the year.
At the time, Bill Gates, Microsoft's founder, said: "Today we're making big bets on games, music, video and connecting these entertainment experiences to help change the way people play."