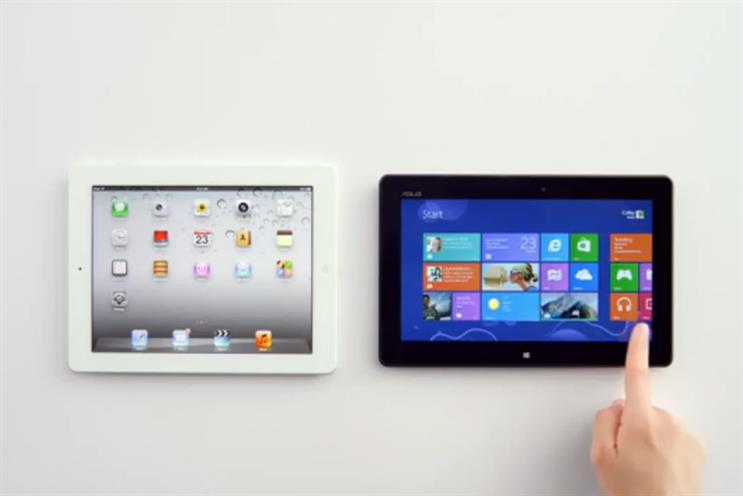 The commercial goes head to head with its biggest rival on two of the biggest factors for consumers - price and performance.

7 / 10
Microsoft - Less Talking, More Doing
It seems no one can resist having a dig at Apple at the moment.
Once the trendy kid in the playground, it now feels like more and more brands are lining up to have a swing at the tech giant.
First, Samsung had a go with its hilarious ad "The Next Big Thing Is Already Here" last year. It proved so successful, the South Korean giant – currently engaged in a bitter legal battle with Apple – followed it up with another sharp dig to promote its S4 smartphone. Even Somersby Cider joined in on the act with its amusing spoof of an Apple store.
The latest to wade in is old foe Microsoft. And no doubt still wearing the painful scars from the bruising Mac vs PC campaign a few years back, it is in no mood to pull its punches.
In fact, its latest ad campaign for the new Windows 8 operating system makes Samsung's attack ads look subtle and tactful.
Mimicking Apple's iPad Mini ad from last October, the commercial goes head to head with its biggest rival on two of the biggest factors for consumers - price and performance.
It even cheekily adds the confused tones of Apple's "personal assistant" just in case you did not get the message.
So when the Windows Live Tiles flip in real-time on the Asus VivoTab Smart, showing new emails, texts and Facebook status updates while the iPad's screen remains stagnant, Siri is left to admit that she's sorry, but she doesn't "update like that".
The best line, of course, is left till the end: "Should we just play chopsticks?" Siri quips, imitating the iPad Mini ad.
Obviously, dedicating a commercial to attacking a rival can be risky and can backfire badly if the content is not right.
"Less talking, more doing" gets it just about right, although it lacks the punch of Apple's brilliant Mac V PC campaign, back when Microsoft was the market leader, and lacks the subtle wit of Samsung's "The next big thing is already here".
However, thanks to a hefty dose of PR and interest from consumers in both camps, the ad has already managed to get off to a great start, already attracting more than 3m views and 83,000 shares.
What's really interesting about this ad, though, is what comes next...