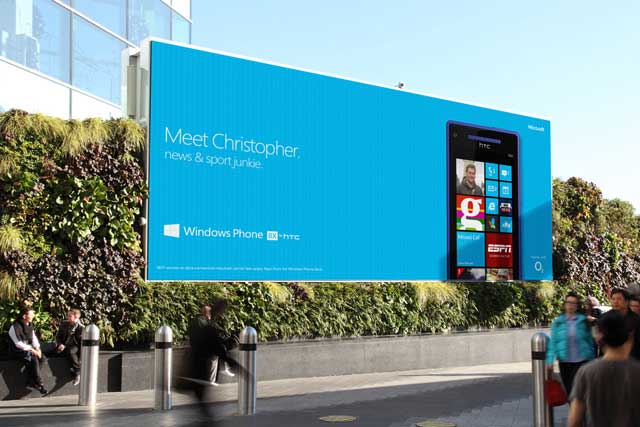 The designs will be used as the creative for a wider ad campaign.
From today, people walking past the 24 interactive screens in shopping centres and cinemas across the country will be able to use Windows templates to design personalised start screens that feature their photographs and first names.
The personalised Windows start screens will then be used in a national digital outdoor campaign on screens in rail stations as well as big sites such as those at Birmingham New Street, Manchester Hacienda and Westfield London.
The two-week ad campaign has been planned and bought by UM London with its sister outdoor agency Rapport. New personalised creative designs will be distributed every 30 minutes.


Digital outdoor production company Grand Visual has produced the campaign and built the technology behind it and the user generated content is being distributed nationally with regional targeting through its OpenLoop platform.
Global Microsoft creative work by Wunderman was adapted by Beattie McGuiness Bungay for the digital outdoor campaign, which a spokeswoman for UM London said is the "biggest ever" interactive digital outdoor campaign in terms of scale and ambition.
Diane Perlman, marketing communications lead, Windows Phone UK, said: "This idea had the wow factor right from the start and I'm thrilled to see it coming to life in cinemas and shopping centres across the UK.
"With this innovation, we are enabling consumers to get involved in our campaign, become 'famous' and see first-hand how Windows Phone is unique to each one of us. The result is slick, easy to use and fun to interact with, just like Windows Phone."
Last month Microsoft kicked off its UK marketing activity for its new Windows 8 operating system by installing a giant slide in the Bluewater shopping centre in Kent in a bid to present Windows 8 as "fast and fun".