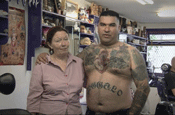 Created by Microsoft's Miami-based agency Crispin Porter & Bogusky, the UK campaign features a range of PC users from across the country, positioning the Windows products as the glue that unites them across home and work.

The ads, which will break during the live X Factor show on ITV1 on Saturday evening, aim to celebrate the diversity of Windows users.
The UK campaign follows recent US activity from Microsoft that featured Bill Gates alongside the comedian Jerry Seinfeld, which also attempted to show Microsoft connecting with real people.

The TV activity will form part of Microsoft's largest-ever UK campaign and will link with an online drive that aims to encourage consumers to share their "I'm a PC" moments by uploading them to windows.co.uk. Media planning and buying is through Universal McCann.

Rob Reilly, the executive creative director at Crispin Porter & Bogusky, said: "This is where we set the record straight, shatter the stereotype and show who the real PCs are. This campaign demonstrates how the PC connects a vastly diverse collection of people through a multitude of devices and one common emotion: pride."