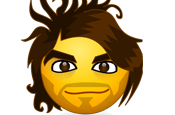 The site allows users to pick from a range of facial features, hairstyles and accessories to design their characters. They can also create and download four different emoticons.

The Minimise Me site also plays host to a series of British celebrity characters and emoticons, which users can download as they are, or customise and send to friends.

The site was created by MRM Worldwide UK.