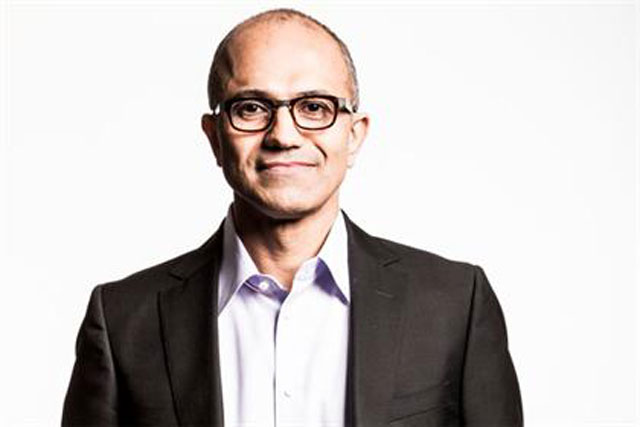 Overall profits for the three months to 31 March were down 6% on the previous year, but investors were heartened by news that revenues from its Devices and Consumer division were up 12% to $8.3bn (£4.9bn), with its subscription-based Office 365 Home product adding one million customers in the quarter.
Microsoft sold two million Xbox console units, including 1.2 million Xbox One consoles, while it claims Bing's US search share grew to nearly 19% and its search advertising revenues were up 38% year on year.
It comes in the week that rumours surfaced that the company is to rebrand its handset maker Nokia to Microsoft Mobile.
Nadella, who replaced long-time Microsoft boss Steve Ballmer in February, said: "This quarter's results demonstrate the strength of our business, as well as the opportunities we see in a mobile-first, cloud-first world.
"We are making good progress in our consumer services like Bing and Office 365 Home, and our commercial customers continue to embrace our cloud solutions. Both position us well for long-term growth. We are focused on executing rapidly and delivering bold, innovative products that people love to use."
Separately, Amazon has revealed its Q1 profits are up 32% year on year to $108m (£64m), with revenues up 23% to $19.7bn (£11.7bn).
Amazon founder and CEO Jeff Bezos hailed the ecommerce brand's "kinetic start" to the year, including the launch of its Fire TV service – although the firm is reportedly set to face a legal challenge from pornography broadcaster FyreTV over the trademark.