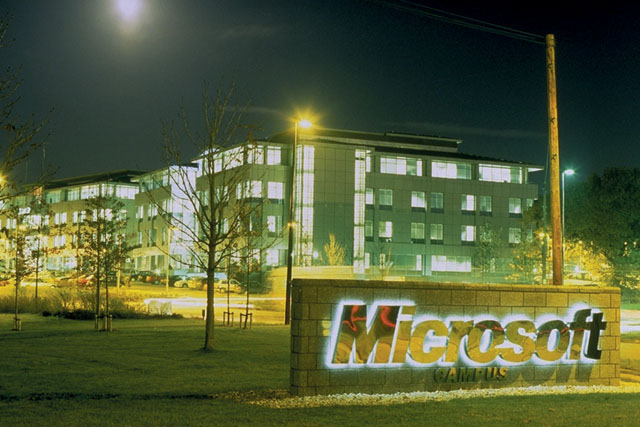 When a senior player leaves a major business, the odd eyebrow may be raised quizzically at the reasons behind the move and what might have lured them away. When the company in question is as big a name as Microsoft - a brand that once reigned supreme over the technology sector - and the senior players departing number four in the past two months alone, serious questions will be asked.
The most high-profile of the departures is that of managing director of consumer and online Ashley Highfield, the digital industry figurehead famous for launching the BBC iPlayer, who is set to join embattled Johnston Press as chief executive on 1 November.
Chief marketing officer for the consumer and online division, Mikah Martin-Cruz, central marketing group director Alison Masters and former Bing marketing director Alex Payne have also left the building (see below). While the plans of Masters and Martin-Cruz are as yet unknown, Payne is to become the chief marketing officer at gambling website PokerStars.
Operational challenges
Microsoft remains a global heavyweight. Nonetheless, as the corporation has expanded its portfolio of products over the decades, beyond software for desktop PCs into online, mobile, gaming and advertising, it has come up against ever-strengthening rivals Google and Apple. The latest departures appear to be the consequence of a plan to retrench and compete more effectively on multiple fronts.
'What Microsoft is facing is not category specific, it's about every area in which it operates,' says one agency source. 'It is being challenged by Google and Apple and faces fierce competition in the gaming sector.
It is trying to radically shake up things to get better traction and make headway with its marketing.'
As a result, Microsoft has undertaken a global restructure, which separates advertising, consumer marketing and products into three divisions in each major market in which it operates: advertising and online (includes MSN and Bing); marketing and operations (led by Scott Dodds in the UK, and formed from a merger of the central marketing group and consumer and online division); and the consumer channels group (focusing on sales and the marketing of products to retailers and device partners).
Inevitably, with any reorganisation on this scale, staffing changes will take place. However, as Microsoft is 'fighting fires' it needs people 'who culturally fit in with the company', adds the source.
According to Microsoft, the overhauled divisions will 'combine some of the company's most powerful assets ... to grow our market share and ensure long-term success in our advertising, consumer and devices businesses'.
In a statement, the company said: 'Our industry is driven by innovation and we are continually looking at how we operate to ensure we get the best from our business. As part of that process, we announced a new approach to our business globally, particularly with respect to how we take our products and services to market.'
Deeper focus on marketing
The restructure should put deeper focus back into the marketing department, says one former senior employee.
'Although the ad business and consumer marketing business sat under one roof before, essentially they were doing very different functions,' he explains. 'By separating them, it will simply help Microsoft gain greater focus on getting the right products into consumers' hands. There is nothing sinister behind it.'
Another source close to the business is more critical, however, suggesting the company is struggling to keep up with fast-paced rivals.
'It is not that Microsoft has got worse, but the industry has moved on and it has been left behind to some extent,' says the source. 'It is fighting a bit of a losing battle and it wouldn't be unfair to say it is managing decline.'
Others might argue that the heightened competition has given Microsoft the impetus it needed to get in shape. It has launched some major products during the past year, backed by significant marketing spend.
The launch of its Kinect controller for its Xbox 360, for example, topped 10m sales in March to make it the world's fastest-selling consumer device.
It also launched Internet Explorer 9 and entered the mobile market toward the end of 2010 (see box, right). Although it has been quiet on sales figures for the phone so far, its alliance with Nokia means it has the potential to become a major player in mobile.
With such a wide portfolio, performance is inevitably mixed. While Xbox is the 'jewel in the crown', Microsoft's advertising business is struggling, says one commentator. 'With big publishers such as IPC and Future gaining traction in the digital space, MSN has failed to keep up.'
Claudio Annicchiarico, head of digital at Fiat Group Automobiles UK and a former Microsoft employee, says MSN has always been a good traffic-building and awareness site for Microsoft. However, he concedes that it 'sometimes has struggled with enquiry generation for certain types of brands'.
'It is not performing to the same level as in the past, hence it not being on our media plan as much any more,' he adds.
Sitting alongside MSN in the new structure's advertising and online division is search engine Bing.
Bing's long game
According to Nick Jones, managing director of digital specialist I Spy, Bing is making headway in the social search space, but has not proved to be the game-changer needed to challenge Google's dominance. 'Microsoft is playing the long game with Bing, however, so it will be looking at the next 10 to 15 years,' adds Jones.
The market will be watching keenly as to whether there are more high-profile exits from Microsoft. While it is too early to discern in what direction the corporation is heading and whether it is fighting on too many fronts, these changes should be seen in the context of its longer-term plans.
With many of its major consumer products performing at the top of their markets, a rapidly changing technology landscape means Microsoft can still compete strongly. Moreover with a chief marketing officer being hunted to work under Dodds, perhaps an influx of top talent will put a stop to any conspiracy theories.
DEPARTURES AND ARRIVALS AT MICROSOFT IN 2011
DEPARTED
Mikah Martin-Cruz, chief marketing officer, consumer and online
Martin-Cruz had little opportunity to make an impact during his 12 months at Microsoft. His exit was abrupt and it is not currently known whether he has a job to go to.
Ashley Highfield, managing director, consumer and online
Highfield is widely credited with creating the BBC's iPlayer. In his second of two years at Microsoft, the company spent £38m marketing products in multiple categories. He is joining Johnston Press in November.
Chris Maples, commercial director
Maples left in January to join Spotify as managing director. A big industry figure, Maples spent nearly four years at Microsoft developing new revenue streams.
Alex Payne, marketing director, Bing
Payne helped search engine Bing gain modest market share over arch-rival Google. He has left to join gambling website PokerStars.
ARRIVED
Andy Hart, general manager, advertising and online
Ex-Associated Northcliffe Digital managing director Hart has taken on many of Maples' former responsibilities.
Scott Dodds, general manager, marketing and operations
Former general manager of Microsoft's business marketing division, Dodds has been drafted in to run the marketing and operations division.
MICROSOFT'S BIGGEST BRANDS
Bing - Microsoft's search engine, launched in 2009, was backed by a multimillion-pound campaign the following March. In October 2010, Microsoft reached an agreement with Yahoo! to power its search, and it now takes a revenue share on paid search in the US. It recently extended the agreement to the UK, powering Yahoo!'s natural search. It tapped into the social search trend early on, being the first search engine to integrate Twitter in results. Bing had 4% of the UK search market in June, according to comScore.
And another thing - It partnered Facebook last year to help make its search more social.
Xbox - Microsoft's gaming console launched in the US in 2001, followed by the current version, Xbox 360, in 2005. Gamers can connect to and play games over the internet via Xbox Live, which it claims 20m people use a day. Microsoft launched its motion-sensitive Kinect controller for Xbox 360 last November, backed by a $500m global push. Advertisers can develop interactive ads, dubbed 'Nuads', for the device.
And another thing - In March it was the first product placement on Sky TV.
Windows - Microsoft's flagship PC operating system, launched in the 80s along with Microsoft Office. Its latest iteration, Windows 7, further strengthened Microsoft's market domination.
And another thing - Windows 7 had a 79% global share in 2010, according to Gartner.
Windows Mobile 7 - The company launched a mobile version of the OS, Windows Phone 7, last year, backed by a multimillion-pound marketing campaign. In March it signed a $1bn deal with Nokia to create a Windows phone, which is due to launch in the coming months.
And another thing - Microsoft recently acquired internet telephony company Skype, for $8.5bn, and is expected to strengthen its position by integrating the product into its mobile device.
Internet Explorer 9 - Microsoft launched the latest version of its web browser, IE9, last September in beta, before rolling it out more widely in the UK earlier this year. IE9 boasts improved speed and performance, with added security features.
And another thing - In an attempt to boost its 'cool' credentials, Microsoft recruited Gorillaz to introduce IE9 in a campaign that included a contest to design a new animated band member.
MSN - Originally called the Microsoft Network, MSN is Microsoft's portal, offering content in categories including news, sport, entertainment, games and videos. Launched in 1995, its main site is MSN.com. Initially MSN was more of a news aggregator, but it has built up its editorial offering. In April, Microsoft hired Pete Clifton, who helped build the BBC News site, as executive producer for MSN. Its email and instant messaging service is MSN-branded.
And another thing - MSN UK now has a team of 50 editorial staff.
Additional research by Ariane Osman.