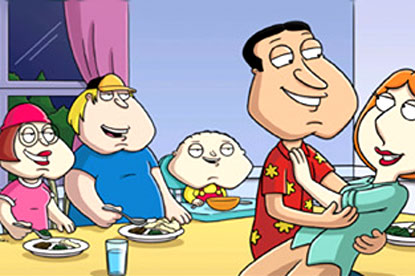 The decision came after senior Microsoft executives were shown a preview of the show, which featured crude jokes about sensitive issues, including incest and the Holocaust.

The company had planned to use the show to promote its new computer operating system, Windows 7, to a youth-led, digitally savvy audience.

Microsoft signed a deal with the show's writers, Seth MacFarlane and Alex Borstein, to create a 30-minute variety show featuring animated and live comedy sketches.

The programme would include jokes promoting Windows 7 in place of ad breaks.

The run-through of the show included both the paid-for jokes as well as typical Family Guy material, which was not to the tastes of Microsoft's executives.

The company will retain some elements of the deal, including advertising its Windows 7 product on the Fox network and running a 12-week college and university tour across the US featuring Windows 7 and Family Guy-themed events.

The Fox network will go ahead with the Family Guy special on 8 November using another sponsor.

This marks the second incident in a year that Microsoft has pulled out of an ad campaign featuring potentially offensive humour.

The company dropped an online ad in July, which showed a woman discovering pornography on her husband's computer.