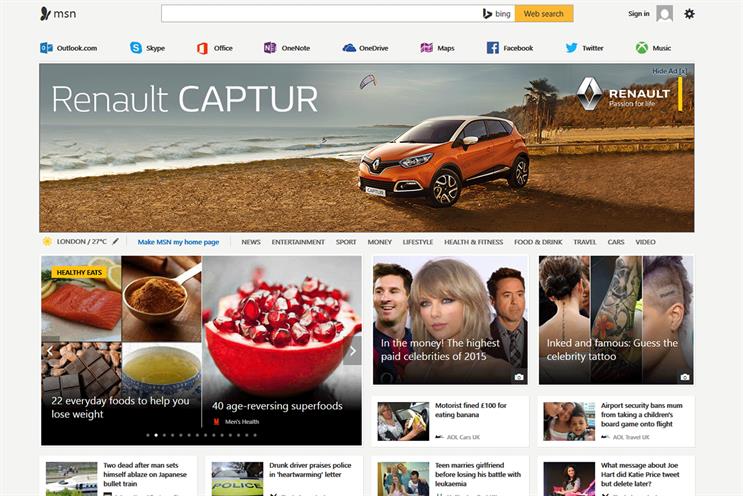 AOL, now owned by Verizon, will sell display, video and mobile ads for Microsoft in its nine key markets across the world and use the tech giant's leading brands, including the MSN homepage, Outlook, Xbox and Skype.
The move could impact about 1,200 jobs at Microsoft. Neither company had commented on how many employees are to be offered roles at AOL as this story went to press.
It is not known what the move means for Andy Hart, the vice president for Microsoft Advertising & Online, Europe, and Stuart Flint, the UK sales director at Microsoft Advertising & Online.
Bob Lord, president at AOL, said: "We have enjoyed a terrific relationship with Microsoft, and this expanded partnership is a win for both companies and our advertiser partners as our industry continues to rapidly transform and evolve.
"This collaboration further validates our leadership position in digital advertising and the shift to automation, while also allowing Microsoft to focus on what they do best: industry leading services and search innovation."
Microsoft will also sell some of its map-making technology to Uber as it looks to slim down its digital operation and focus instead on growing revenue from Bing, its search engine.
Microsoft's search ad revenue increased by 21 per cent year on year in the first three months of 2015.
The partnership with AOL includes a 10-year global search and search advertising deal, which will see AOL's search engine transition to Bing from 1 January 2016.
Rik van der Kooi, the corporate vice president of Microsoft, said: "This deal is further evidence of the quality of Bing results and the performance of the Bing ads marketplace.
"And we will continue our focus on delivering world class consumer services and content and look forward to partnering with AOL to market them."
It is not the first time the tech giants have formed partnerships with one another. As far back as 2011 Microsoft and AOL formed an alliance with Yahoo to sell each other's non-reserved ad inventory in the US.