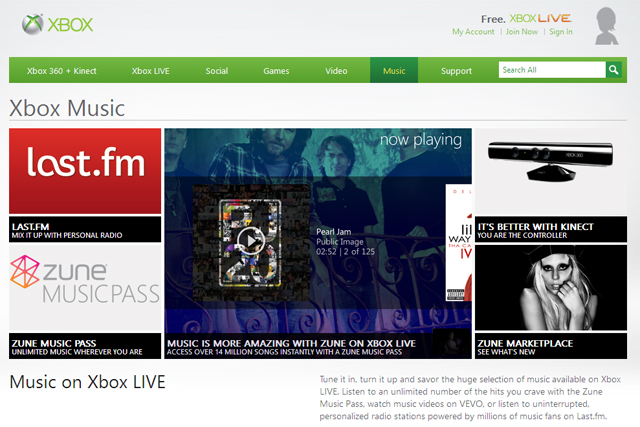 Xbox Music aims to be an "all-in-one" music service, offering music streaming, a radio service and the option to buy tracks. It has a library of 30-million tracks, topping the 26 million offered by iTunes.
The service is ad-funded, meaning users can stream the tracks for free with the option of ad-free listening for a premium subscription of £8.99 per month, in a similar offering to Spotify. Streaming is something which is not currently available on iTunes. They can also purchase tracks from the library. A spokesman for Xbox would not confirm the pricing for this, saying it would be "competitive".
The service rolls out to 22 countries tomorrow, including the UK. Currently it is only available on via the Xbox 360 games console. Xbox Music offers cloud storage, in a similar way to Amazon and Google's music services, which mean users can listen to their tracks across different devices and also upload existing music collections to it, using "scan and match" technology.
However it plans to expand the service in the coming weeks, making it available on Windows 8 and on its Surface tablet, when the new operating system launches towards the end of this month. It also has plans to expand it to the Windows Phone.
Don Mattrick, president of the Interactive Entertainment Business at Microsoft, said: "The launch of Xbox Music is a milestone in simplifying digital music on every type of device and on a global scale. We're breaking down the walls that fracture your music experiences today to ensure that music is better integrated across the screens that you care about most – your tablet, PC, phone and TV."
Xbox attempted to rival iTunes previously with its music service Zune, but it failed to gain traction. Xbox Music will replace the Zune brand.

The move is part of Microsoft's plans to expand the Xbox brand from gaming to entertainment. As part of this strategy, a year ago Xbox started offering content from partners, including LoveFilm, BBC and Channel 4.