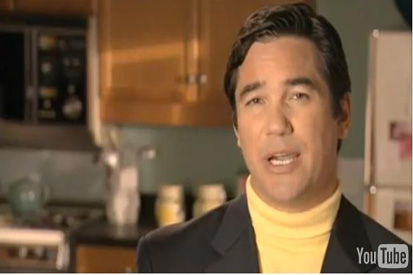 Created by US agency Bradley & Montgomery, the series stars actor Dean Cain of superman fame.

One clip, which has already come under attack from bloggers shows a woman looking at her husband's browsing history and being so disgusted she projectile vomits.

The 60 second clip aims to draw the viewer's attention to the browser's privacy settings.

Microsoft is also offering to donate eight meals to a charity Feeding America each time the browser is downloaded.

Following the US launch of Bing, Microsoft rolled out a £60m advertising campaign, created by JWT, canvassing the web, TV, print and radio.

Rival Google has also launched an online and TV ad campaign for its browser Chrome, which it said is 'experimental'.

According to Net Applications, in June all versions of Internet Explorer accounted for 65.5 per cent of browser market share, followed by Firefox with 22.5 per cent. Google's Chrome accounts for just 1.8 per cent of the market.