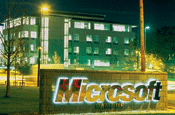 A report in US magazine Advertising Age said the companies were considering an asset-swap, rather than a straight cash deal.

It is reported that WPP may trade its Open Ad Stream, the ad-serving technology arm of 24/7 Real Media, in exchange for the agency.

Microsoft paid aQuantive $5.9 billion for three businesses, including Avenue A/Razorfish, and the article estimates the current worth of the agency at $800 million.