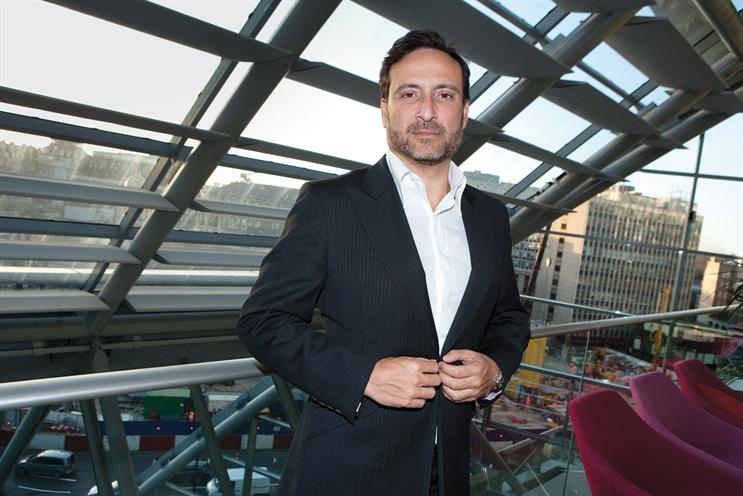 Most executives spend their first 90 days in the job getting to know the company, its staff, customers and partners. Andy Hart, the newly elevated vice-president of Microsoft's advertising and online business in Europe, knows a lot about the company already, so he also has grander ambitions: he wants to save advertising. He has seen the future and, if the digital world continues to deliver an unlimited supply of messages, digital "ad blindness" beckons.
"There is a risk we will saturate consumers across all their devices," the former general manager of advertising and online in the UK says. "So it's not just 50 per cent that don't click [as research found recently], but we get to a world where 80 per cent don't click. Or worse – not only do they avoid ads, they go ad blind. If you extrapolate that, if they go ad blind in one medium, then it's not a stretch to say they could go ad blind in all media."
The issue is relevant as his new role coincides with Microsoft "retiring" its e-mail service Hotmail in favour of a cloud-based version of Outlook. The move has caused media agency grumbles about the loss of Hotmail as a direct-response advertising channel.
Hart acknowledges Hotmail worked well in attribution models, but he questions whether that should be enough to ensure its survival. "When did we allow 0.064 per cent click-through to be a success?" he challenges.
After two years at Microsoft, Hart says he has come around to his colleagues' point of view, so Hotmail gets the chop because it worked better for advertisers than consumers. Its replacement opens up new opportunities for brands too.
One ad format Microsoft is currently trialling in the US and Brazil is "versaTiles". Hart says it is very different from the "flashy, irrelevant ads" that got in the way of users' Hotmail experience. "Gone are the narrow banners and buttons," he explains. "And in comes user-initiated, rich brand content. We're going to have high-value, high-impact brand ads that the user can interact with."
VersaTiles will reach the UK as just one of Microsoft's range of advertising solutions. The company wants to position itself as a premium digital player with its ad opportunities around Bing, MSN, Skype, Xbox and the Windows 8 operating system.
'If consumers go 'ad blind' in one medium, then it's not a stretch to say they could go ad blind in all media'
No longer the biggest digital display player in town, Microsoft is now positioning itself as an innovative, creative partner instead.
Developing this positioning will be part of Hart's role. He will help the 17 local leaders develop their businesses and also run the 13-strong international sales team.
However, some sources suggest that Hart's new role is a sideways move, precipitated by his less-than-congenial relationships with members of his team and Microsoft's global management.
When Campaign puts this to him, Hart sounds a little hurt. "Wow, so many well-wishers," he says sarcastically. "Do you think Microsoft hands out VP titles lightly? Do you think that one would be given so much responsibility if one hadn't delivered? I think that's tittle-tattle and nonsense."
For many who have worked at the tech giant, such discord is classic Microsoft. One senior executive tells Campaign that it's a politicised environment totally controlled from the US, adding: "You have to watch your back and keep your cards close. With hindsight, you realise that can be quite restricting."
Hart says Microsoft has always been a matrix structure with dotted reporting lines. Moreover, Frank Holland, Microsoft's corporate vice-president of advertising and online, credits Hart with having transformed the UK ad sales business.
"Andy's new role takes the excellent work he's done in the UK and expands his focus to growing share and driving the long-term success of Microsoft advertising across Western Europe," Holland says.
As a former managing director of Associated Northcliffe Digital and chief executive of Ask Jeeves, Hart has a strong digital pedigree, with success in investments that include Jobsite and PrimeLocation.
Stephen Miron, the group chief executive of Global Radio who brought Hart into the newspaper group, praises Hart's "analytical brain" and ability to identify "challenges and solutions".
Nancy Cruickshank, the founder of MyShowcase, calls Hart a great example of an "entrepreneurial maverick" who has succeeded in a corporate environment. "He is as likely to go clubbing with clients on a Thursday night as he is to sit and talk strategy with the chief marketing officer of Unilever on a Monday morning," she says.
If Hart can demonstrate where Microsoft now sits in the expanding digital world and build revenues across Europe, he will have answered the doubters and provided a welcome direction of travel for the evolving company.



The lowdown

Age: 46
Family: One son, Max, aged 15, and Bagel the beagle, aged five
Lives: St John's Wood, London
Desert-island media: Epiphone 1944 FT-45 acoustic guitar
Interests: Arsenal FC, guitars, the NSPCC, anthropology, The Groucho Club
Motto: "Whoever does not try, does not learn"